BORDER SECURITY MUST BE IMPROVED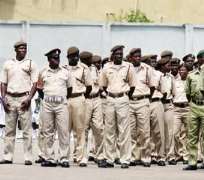 On 22 January, Minister of Interior Comrade Abba Moro, announced plans for better border control infrastructure around the country. He reportedly said that about 1,475 "official" borders and 1,975 "unofficial" borders had been identified. He indicated that the priority would be to improve security at "official" borders, and then focus on "irregular" borders – with the aim of completing the full project by 2015.
An admirable plan, perhaps – but not quite a tight enough time frame to reassure Nigerians at this time! Especially as it seems likely that any terrorists, smugglers or other illicit travellers will be heading towards so-called "unofficial" or "irregular" points of the border.
Tendency to focus on internal security
On 23 January, the Nigeria Labour Congress (NLC) released a statement calling for urgent reform of the nation's security services, following the recent spate of fatal terrorist attacks.
Voicing sentiments shared by many Nigerians, the NLC said: "We see in all these attacks a total failure of our security system that has consistently displayed incompetence in securing lives and properties of everyone living in Nigeria.
"We have noticed that on all occasions when bombs were detonated, all we hear from security agencies are lamentations about their state of helplessness as well as unfulfilled promises of improvement."
On the same day as this NLC statement, a two-day meeting of Nigerian officials and representatives from the USA began, with the hope of brainstorming more effective strategies against the current terrorist activity.
Acknowledged failings on borders
Understandably, the recent bombings have resulted in this focus on internal security measures. But border security remains a huge, urgent – and clearly connected – issue.
Many of the agencies involved in border security, including the Nigeria Immigration Service (NIS) and Nigeria Customs Service (NCS), have acknowledged the need for improvements in this area.
On 15 January, the Nigeria Immigration Service (NIS) announced that it had taken on assistance from a number of other agencies, including the army, the police force, the customs service, and the Nigeria Security and Civil Defence Corps. NIS Public Relations Officer Joachim Olumba said this was necessary in order to provide adequate coverage of Nigeria's borders in the states of Borno and Yobe.
At the same time, it was announced that 20 security officials will be sent for training in Italy, with the aim of improving Nigeria's response to the security threat presented by groups like Boko Haram. Among the selected officials are eight from the NIS, eight from the NCS, and four from the office of the National Security Adviser.
Since 2004, NCS has been making efforts to meet standards set by the World Customs Organisation (WCO). Targets include: making use of global customs networks, better coordinated border management, pre-emptive risk management driven by intelligence gathering, and strategic use of technology.
Progress has been made in these directions, including the introduction of more advanced ICT systems and improved communications technology. The service has also acknowledged that in order to successfully modernise, it will need to invest in training and re-training for all staff members, alongside recruitment of new staff.
Too many leaks, at sea and on land
It has recently been reported that our nation loses some $100 million to illegal bunkering and other criminal marine activities, every year. There are thought to be more than 250 vessels, both local and foreign, involved in making illegal transfers and bunkering in Nigerian waters – without paying the legally required duty.
Industry experts have called for legislation requiring all ships to make berth in a port before transferring products, and for both the NCS and the Nigerian Ports Authority (NPA) to become more heavily involved in collecting legal duties from ships.
Michel Abel, managing director of Micks Integrated Oil, has also suggested that Customs officers should be trained to handle calibration; more accurate calibration, he says, would prevent Nigeria from losing revenue from oil sector transactions. He has also argued that more helicopters and patrol vehicles should be used to better police the waters.
Inland too, Nigeria's national wealth is being siphoned away in illegal transactions. Following the fuel subsidy cut, fuel prices in Benin and Cameroon shot up. This suggests the extent to which Nigeria's nationally subsidised fuel had been servicing these countries – after being smuggled across the border.
As pressure mounts within our nation, let us not allow those in power to turn away from the borders. Now is the time to strengthen them, both at sea and on land, whether "official" or not. Now, before any more deaths occur and before any more of our country's wealth is stolen. Now, not by 2015.
Written by Tizhe Ndikawa.

Disclaimer:

"The views/contents expressed in this article are the sole responsibility of

thewillnigeria.com

and do not necessarily reflect those of The Nigerian Voice. The Nigerian Voice will not be responsible or liable for any inaccurate or incorrect statements contained in this article."
Articles by thewillnigeria.com