A DOLLAR BILL WAS PASTED ON MY NIPPLE AS A MODEL-BLESSING EGBE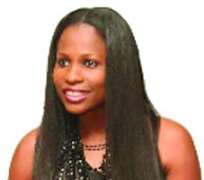 Filmmaker, producer, writer and actress, Blessing Egbe, started her career as a model. She was among Nigerian models making waves in South Africa and junketing the globe. She stopped modeling and returned to Nigeria in 2005. In this interview, she talks about life as a model in SA, the good and bad in the modeling business and lots more…
When did you start producing films?
I started in 2005 after I stopped modeling. I attended a film course while I was abroad. When I returned home, I started making films.
Which films have you produced?
After the Val, African Queen, The Rival and Walking the lane…. and lately Two brides and a baby
Why did you go into film production?
It's my love for the arts as an undergraduate. I studied theatre arts at the University of Calabar. It's just the love for the arts; telling stories that people would learn from; get an emotional feedback from telling stories from my films.
Tell us about the latest
It's titled Two brides and a baby. We premiered it last November 17. It's an interesting story of love, pain, marriage, and relationship struggles. Couples facing crazy issues with the emergence of the other woman. It's just full of drama and craziness but it is interesting.
What's your inspiration?
I write from what I see. My friends experience, my family; basically everyday things. I tell stories that affect people's lives; every day stories that people can relate to. That's where I get my inspiration.
What was life like after UNICAL like initially?
I worked while awaiting youth service at a bank for six months. I was sacked because I didn't bring in money. They wanted me to bring in millions but it was an impossible mission. I didn't care because it was a job I used to while-away time. I waited at home till I went for youth service. Then I met Frank Osodi who talked me into the ECOFEST competition, which I won. That was how my career in modeling started. Modeling is something that you have in you. I didn't go for any grooming.
I still hold the ECOFEST Model of the Year title because the organizers haven't had another. Chief Odogwu organized it. It was nice. We had guests from all over Africa. We were signed on with a modeling agency in Lebanon and we went to the UK with Naomi Campbell who took us around. We went to Beirut and I represented Nigeria at the World Fashion Show in Lebanon and finally settled in Cape Town.
What other jobs did you do?
I did a lot of international assignments. I appeared in the Tyra Banks American Next Top Models and did Guinness McDonald's. I had a very good run as a model. I just got tired.
What is tiring about modelling?
I was just bored with the wake-up-in-the-morning check-your-weight routine. I wanted to use my brains. I'm very restless. That was when I enrolled at City Varsity Film School in Cape Town, but I was still modeling. I just got up one day and put everything in a script people liked in 2005. I came back, shot the movie, got a marketer who liked it and bought it. I made money and I went back to Cape Town.
How was life as a model in SA?
It was crazy. It's interesting, and it pays, but it's crazy. It's good to have a humble beginning or to get a real strong morale booster otherwise you'll get lost in all the flashiness, all the façade of modeling and the things that come with it, but I'm a very stubborn person. I didn't get lost in all of that. It's just crazy. The good part is the fun, the traveling. That's the good part of modeling and the money, of course. But people sort of make you into what they want you to be, not what you really want to be. You must look a certain way and do whatever it takes to be like that as required by the agency. That was where my trouble started. I wanted to be my person, I wanted to know a lot about what I was doing. There was this issue that 'she wanted to know too much'.
We learnt that you turned down some offers. Why?
You know when you are tired of something. They would book me, like to go to China. After getting my visa they won't tell me how much I'm getting and I just told them I wasn't going. There were some funny offers like 'you have to travel to Dubai' and I would ask what we were going to do. They'll say don't worry, you know those funny arrangements. I would then ask, how much am I getting? What's this job for? They won't tell me and I just started misbehaving.
Is it true that Nigerian girls, I mean models in SA, are doing something else?
I don't blame them for saying that. Not that it's true. But at some point, there was this funny law made by the South African government that an alien cannot earn anything over 30,000 rand. It was all that put together that made me leave. When these girls start working for small, small monies, what do you expect?. How would they survive in SA? These girls had the impression that 'I'm abroad and working' and they had live up to that.
So, how has it been as a movie producer?
It's been good and bad. Obviously, there hasn't been returns from the investment in the work I have done in Nollywood but I'm hoping that this one will be the break I have been waiting for. This is what I like to do. I'm enjoying the arts, the fun. It's just what I like to do and that's the good thing in it. But the bad thing is you are putting in money and you can't get back your money because an efficient distribution network is not in place. Then you have to contend with piracy issues as well as litigation over copyright that may last five years.
Is your husband into entertainment too?
No, he's not. We have two girls. We got married in 2008.
Did you guys meet in SA?
No, in Nigeria. (Laughter) We met, we married, I got pregnant, and we have kids. I was walking along the road, he was driving and he stopped. I played hard-to-get at first and later I agreed to enter the car.
When you told him you were a model how did he feel?
If I weren't a model, would he have liked what he saw? He accepted me for who I was. Modelling wasn't an issue at all.
What's your dressing like as a model?
I used to do everything. I have had a dollar bill pasted on my nipple. You sell whatsoever they tell you to sell. If they want you to sell a bra, you sell a bra. If they want you to sell a pant, you sell it. Models use their bodies basically to sell products. Your body is the selling point.
You mean you pasted a dollar on your nipple in SA?
I did it in Nigeria first and I did it abroad. I was well covered obviously here than there. I had a big crest on but everywhere was open. It's arts, nothing serious.
For the sake of arts or modeling can you pose nude ?
It depends on the picture you are taking. I have posed to be painted sometime ago . You can be nude if you have to do it for a good cause, if it's necessary, and if you need to do so. It's all part of the job.
Will you still do modeling ?
I will think about it, maybe if the money is good.
What size were you as a model and what size are you now?
I was size 8 or 10 I'm not sure, but now I'm size 14 or say big 12.
How are you coping as a mother?
I took off two years after getting married and pregnant, had my kids and took care of the home front. Now I'm back into the mix of things.