My world came crashing when my father died----Mike Ezuruonye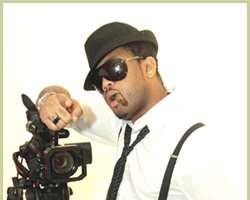 Mike Ezuruonye has seen it all…or so we think. The vibrant actor was born into a wealthy family and he had everything a child could want. But then everything came to zero with the sudden death of his father. His uncles usurped all Mike, his mother and siblings could lay claims to as inheritance.
They were undaunted. His mother particularly took the bull by the horns . She trained Mike and his siblings and today they are all high flyers in their callings. Read all about Mike's challenges and how he overcame them . Excerpts:
You've been on a roller coaster this year. You were one of Globacom ambassadors and you signed up as face of Malta Guinness. What is responsible for all these blessings?
Passion for what I do and how I do it. First of all God has blessed me with the kind of scripts I get. I've gotten scripts that showcased my versatility. Sometimes you see me as the good looking guy, the village boy, or the dejected boy. I've been able to bring different characters to life. I am not going to be one actor that is boxed to one corner.
If you have to count your blessing from January to December, how many have they been?
A lot. I can't deny the fact that I've been very lucky this year. Mike Ezunronye is by the grace of God a plane that does not know how to stop. I am also very prayerful.
Where is this train coming from?
I grew up in Lagos State, but while growing up I was always involved in TV. I had an headmistress and a proprietress then, who was so involved in the NTA and that made me an NTA child and exposed me to variety shows . So that was where it all started and I started the stage at a tender age. I had one or two things with the Amata family. We were doing things together with Rukky Amata and Fred. Finally, after school, one of the leads I had from work, I actually bombed into Rukky Amata, who is still a director in Nollywood.
Which series?
I got involved in the series by Zeb Ejiro called Ultimate Heroes then but it never saw the light of day. Somehow I don't know why. It was directed by Andy Amenechi and Rukky Amata and on the same day. That was why I said destiny has a part to play, because on the same day we finished, I was having a drink somewhere and I was mimicking someone, and by my side was Aquila Njama. He asked me whether I did movies, but I lied saying no. He continued, "I like the way you talk, what's your name"; so we just got talking and we became friends. In the same vein I went to do two movies with Aquila. They were titled Dinosaurs and Men of rage. My big break came when I went to pick a friend and he asked me to give a friend of his a lift. While I was on phone I started mimicking an uncle and the other dude whom I did not know was a director took interest in me. He asked if I did movies and that was it. That director was Dickson Iruegbu. After that, a big script came courtesy Emem Isong. She wanted to use the male lead character to prove a point. The other characters that surrounded him were RMD, Genevieve, and Stephanie Okereke. He wanted a new person and she said it while Dickson was around somewhere. That is the reason I said that I am a child of destiny. People were vying for that particular character, but Dickson took her to the studio to see one of the jobs we had done and Emem said this is my guy. He convinced the marketer and the movie came out. The title was Critical Decision.That was the movie that gave me a commercial break-through, but the movie that brought me to the fore was Dickson's film, Broken Marriage. Mine is a kind of Cinderella story.
You started acting in 2005 and here you are today as one of the big boys of the industry within a short time. How did you achieve that, I believe it is more than the passion?
Yeah, I know that with God on your side results would come . I will not deny the fact that I have been fortunate, but there is no other magic to it other than God. I am just a Cinderella story. God brought me to this industry at the right time.
Cinderella went through all forms of hardship, but you were born with a silver spoon so how can your story be that of Cinderella?
Believe me, it is. I was born with a silver spoon in my mouth, but when my father died my whole world came down crashing. I was born in Lagos, raised in Lagos but didn't know Lagos. Everything was taken away from us. We went back to point zero. Reality just dawned on us that we were on our own. That is why I still respect my mum till tomorrow. She took control and did a whole lot to get us to where we are today. She went to take a job in the banking sector after my father's death. My father didn't want my mum to work while he was alive. It was after his death that I entered public bus for the first time in my life. All of a sudden everything just went to ground zero. There was no driver, cars and other luxuries anymore. I've seen the best and worst of both worlds, nothing surprises me anymore.
What was your experience like the first time you boarded a Molue?
The first time I was in Molue I fell. I was about to get down and the bus started moving, so I jumped out with my two legs touching ground… I just fell. I had bruises all over my body. This is the first time I am saying it to anybody.
What were the other things you went through?
My mum also did some businesses while she was in the bank. She would buy a container full of goods from Nestle and I think and there was no warehouse. Our house became the warehouse. We would come back from school and carry the cartoons upstairs. We are not talking about 200 or 300 cartoons here. That was how hard we worked even after school. The aje-butter thing cleared off our eyes.
What do you feel about widowhood now?
You can see that I want to cry now. I have passion for widows. My advice is this: every woman should have something doing. I am not supportive of full time housewives. You better have something doing. It is worse when a woman becomes widowed and everything is taken away from her.
Do you remember when everything was taken?
I remember. Everything was just going systematically. I was too little to do anything about it. I was so confident that my uncles meant well for us, but I was wrong. My father invested a lot in the east and that gave them the opportunity to take over everything. But now, they have bankrupted the companies. I thank God that He is with us, some of them want to get attached to me now but it's never going to happen. I've forgiven them but I can't get attached to them anymore. We are now on our own and we are so closely knitted.
How many children are in your family and where are your siblings?
I am the first out of five. The one after me is a successful banker, the next is an electronic engineer with Shell, and the fourth is a medical doctor in the UK, while the fifth is with Chevron. God has guided us real good.
What did you learn?
I learnt how to take life as it comes. I never get surprised. All those things have humbled me. You could be up there today and tomorrow you are down. I've seen it happen, it happened to me. It has made me humble. I have seen it all. That is why I relate with everybody. And I try to give something out to people everyday.
What do you think of the tradition that impoverishes the widow immediately after her husband's death?
It is evil. It is a silly complex. These things are not yours; why not let his family benefit from his labour? Where were you when the woman was contributing her own quota to the upkeep of the family?
Will you forgive those people?
I have forgiven them, because if I don't I wont move on. I don't keep malice.
How did you feel about the Globacom deal?
The first time I was called I thought it was from a 419. I was in the states when the text came in. When I got to Ghana; I got a call from them again so I started taking them seriously. Glo is one company that has given my industry a handshake. I owe Glo a huge gratitude. I am very grateful. Glo has opened the door for other companies to follow through. I have a lot of respect for Mike Adenuga.
Why did you sign up with Mildred Okwo?
She is dynamic. She understands the business. She knows how to manage a brand. If you are going to work with anybody, work with people who see you as a brand. She is it.
When will you marry?
Real soon.
What is your woman doing?
She doesn't want her face out in the media. We don't want to put our relationship in the press. She is a nice girl sent to me by God.
What is happening between you and Tonto Dike, I read that you guys have something going?
Tonto is a sister. She is the least person I will in my silly mind think I want to sleep with and God is my witness. She is like a sister. Don't believe everything you read.
If Tonto is the least person you will sleep with, what qualifies the kind of person you sleep with?
Sam, I don't know where you are going with this o (laughs). I don't sleep around. Stardom is a very thin line you walk on, if you don't manage it well, you will crash.
Sometimes I'm sure you stray with women...?
No
You are not a saint Mike... are you?
I didn't tell you I'm a saint. I am not a saint
(Interruption) It is only a saint that won't stray.
Are you trying to get into my closet?
I am trying to be at the peripheral of the closet
Then you are not invited
(Laughs.)
Would you date an actress?
Will I? I am dating now, but not an actress ... there is nothing wrong with dating an actress. What people don't understand is that they are also human beings too. That is why it's sad when people write negative things about them. You don't know how many marriages you must have destroyed or would- be marriages you would have destroyed because of some silly lies you wrote. They are human beings with emotions too, they are human beings with families too and they are answerable too. Sometimes when certain things are written about them and it breaks their hearts, they break down on set and this is very sad. They are human beings like any other person; the only unfortunate thing is that they are in- the -know of people. We are in- the- know of people as actors but we are human beings. That is what I want people to understand and for your question about dating an actress, I am not dating an actress.
But sometimes on set, in location, I have had somebody say emotions flow?
In every industry emotions flow, but I don't know about that. I wouldn't say that happens in my industry. I am sure in your company you've had relationships or people must have been interested to have one, but why ours is special is because we are known people.
Well we are just bloody journalists?
I think it used to be before but right now actors don't date actresses now.
I'm not even talking about dating. May be something just happened and you said meet me in my room now?
Nothing like that happens; we are just friends nothing like that happens.
Okay where will you spend your Christmas?
In Lagos, because in the last three years I've not spent Christmas in Lagos.
Your girl, what part of the country is she from, North, East or South?
She is a human being from this earth
Will she be spending the Christmas with you?
She is a human being from this earth
(laughs..).
What should we expect from you in 2010?
Bigger things, bigger charities. Though we have been able to do some little charity but right now, I'm coming out with some charity that is different that. I hope you are not going to ask me Mike what is wrong with you... Why? The question will be why, a big why, and it is not the norm, you know like what you have with HIV or the press people.It's not the norm... I am not disclosing anything now, but some sort of merchandising are coming out, bigger thing are coming out next year. My manager and I have a fore plan, we have a game plan, but we will be doing a lot of charities and within my own fold I made a promise to God. I told God from January I am going to take up somebody I'm going to train, a needy I'm going to train from primary to university. I pray God sees me through.
You are not like ok I'm going into music or I'm going to start a business?
That's not for me, but it could come up.
Tell us the top ten in Nollywood?
Oh! You want to put me in trouble?
No. It does not have to be your view completely
Ok. They include Olu Jacobs, and Odiobi. I don't want to include myself, Ini Edo, and Tonto. She is becoming a force to be reckoned with. Mercy Johnson, Oge have a lot of presence too as well as Ali (Nuhu), Ramsey Noah, Patience Ozonkwo, Rita Dominic and Emeka Ike.
(Interruption) what do you think about the AGM crisis?
I just pray they settle the house because we need a settled home to work.
So who will you vote for?
I'm not eligible to vote. I'm not a delegate, so I cannot vote
Which chapter do you belong ?
Lagos chapter.
Who is your chapter supporting?
I don't want to involve myself in all that politics... all I know is the chairman of my chapter is Ernest Obi.
You know who Ernest Obi is supporting?
I don't know, I don't really know. All I'm just saying is that whatever they do they should try as much as possible to involve known actors in what they do . But they need to settle their house , because if they involve actors who are known they can expand the coast of AGM. They can carry this people along and we can go to different places.
I am suspecting you are supporting Emeka?
Look, I am blank on this issue. I'm not a politician, but I think they should just make sure they carry people along. Whatever they do, let them carry us along.
Story by http://nollywoodgists.com