Security: Fashola Enjoins Lagosians To Be Vigilant and Pass Useful Information To Police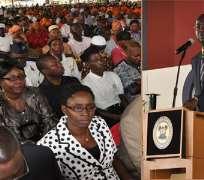 LAGOS, January 23, (THEWILL) - Lagos State Governor, Mr. Babatunde Fashola (SAN), Monday enjoined all Lagosians to be vigilant and report all unusual occurrences in their neighbourhood to security agencies saying, it is only by such collective vigilance that the security of the State could be ensured.
Governor Fashola, who spoke during the interactive session which followed his stewardship account rendering in the last 100 days at the LTV Blue Roof Multipurpose Hall venue of the commemoration of his 1,700 Days in Office, expressed the need for residents to take more interest in what is happening around them especially the appearance of strange faces and vehicles parked in street corners for more than usual times.
The Governor, who was responding to a question from a stakeholder about what government is doing to sustain the existing peace and security in the State, declared, "Let us take more notice of unusual faces in our neighborhoods so that when we need to, we can recall and remember and describe them. Let us take much more notice of strange vehicles parked near our street ends, parked in front of our homes that were not there yesterday. Ask questions; who owns this vehicle? Check and recheck and keep up the vigilance and pass information about unusual developments in your areas to us".
Appealing to residents to make use of the State's toll free emergency numbers, 767 and 112, the Governor expressed the readiness of the State's security agencies to respond promptly to such information. Governor Fashola also attributed the current peace and security being enjoyed by Lagos residents to "the restraint that we have all shown, the respect we have demonstrated for one another irrespective of our cultural and ethnic diversities".
"We have chosen to live together, respecting each other's Faith, respecting each other's colour, each other's tribal marks, each other's language", the Governor noted and thanked the State Council of Obas and Chiefs "for their continued support to Government in ensuring mutual co-existence in the State".
The Governor also thanked leaders of the Arewa Community, Igbo and all other ethnic nationalities in the State for their contribution in the efforts to maintain the peaceful co-existence in the State.
Advising against ethnic or religious colouration to disputes, Governor Fashola declared "There is no community where there are no disputes. There is no community where there are no wrongs. Even in this Hall, there is wrong. But when wrong is done, let us address such wrong for what it is rather than giving it tribal or religious colouration".
"If something has been done in a way that you think that it is unjust, focus on that complaint and on that issue rather than say it is being done because you are of a particular tribe or religion. It escalates provocation", the Governor appealed.
Noting that a lot is being done, in terms of security, that could not be disclosed openly, the Governor also thanked the various security agencies, the Neighbourhood Watch, the Community Development Committees and the Community Development Associations for their individual and collective efforts towards the sustenance of peace and security in the State.
Responding to a question on the State's House Ownership Programme and how it will benefit low income earners, Governor Fashola said his administration embarked on Housing projects because of its importance in the socio-economic development of the State adding, however, that as important as the sector is, it operates within certain economic realities.
"Today, I am happy to acknowledge the presence of Alhaji Lateef Jakande here for the wonderful work he did in Housing in the 1970s. Truly, I wish we were in the 1970s because during that time, in an import-driven economy, our Naira was stronger than the Dollar. With N1.00 at that time, Alhaji Jakande could almost buy 0ne and half dollars, but today, I need N162.00 to buy a dollar", the Governor said, adding that this has made it a bit difficult for the administration.
The Governor, however, promised that it would not be impossible to build houses that would benefit low income earners in the State, explaining further, "Essentially, what we are putting out there is that you pay part of the price of the house you choose to own and from then on, to a minimum of 10 – 15 years, you pay the rest"
"In our Lagos HOMS, everything you pay is a part payment towards your ownership of the house. After that initial deposit, we expect you pay monthly in a way that will enable you to keep your job, not spending too much of what you earn so that you can look after other responsibilities to your family members", he said.
Governor Fashola said the houses are built in categories of one, two and three bedrooms so that income earners of every category would benefit adding, "We expect that people will cut their cloths according to the size of the material".
Governor Fashola said in terms of preparation for the coming Rainy Season, the Ministry of Environment, the Commissioner and Permanent Secretaries are out there already cleaning up the drains and building new ones in preparation for the coming rains", adding, however, that what must always be borne in mind is the fact that Lagos is a coastal city State surrounded by water, a state of many little islands connected by bridges, adding that Lagos Island, Ikoyi, Victoria Island and Surulere among others are surrounded by water.
"The impact of rainfall in coastal states must certainly be much more severe than in none coastal states, but we can do a lot to make sure that the impact is mitigated. We are having extreme weather; the weather pattern has changed. We used to know that Rainy Season used to be between June and August. But rain fell last year until November", the Governor said.
The Governor also challenged the citizenry to "take ownership of all the canals around them", adding, "The canals are actually the drains, the gutters in your neighbourhood are channeled to take the waters to the drains. So we should stop building on canals, we should stop dumping refuse in the canals because it is the canal that will actually take the waters to the sea. If you block the canals, the channel will not be able to take the water away when rain falls".
Canvassing against the use of cart pushers by residents for refuse disposal, Governor Fashola again counseled, "Let me once again repeat that it has come to a time when you have to engage more with LAWMA. Patronize the PSP operators, sign agreements with them to come and take your refuse. You should stop patronizing cart pushers. Cart pushers are the ones who take your refuse and dump them in the canal closest to you; with your money, they are inflicting more pain on you, when the rain falls, the water recedes back to your homes, so you have not done yourself a favour by patronizing cart pushers".