Actress STEPHANIE OKEREKE tells us''the accident i had changed my life''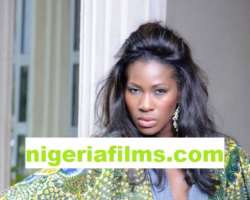 Actress and producer Stephanie Okereke takes us down memorylane as she recounts the things she learnt when she had an accident and how it turned her life around.the actress is grateful to God say says everyday is a miracle for her.enjoy.
1--Hello stephanie,how have you been?
......; I have been good. Hope you are keeping well yourself?
2-I am fine thank you.you recently premiered your movie'through the glass' and it was a box office hit.tell us about the success of this movie so far.
......: The premiere was very electrifying. People reacted positively to the movie. I was quite shocked when silverbird told me that my movie was number one hit,beating movies like G.I Joe and public enemy that week and bringing in N10 million in just two weeks of release and still counting.Imagine if we had more cinemas round Nigeria, it made me understand that people are willing to spend their money on quality movies, give them something interesting and well put together that they will buy it. Silverbird cinemas will release the movie in Ghana on December 18,2009 and in Kenya on a later date.the dvd is set for release in the first quarter of 2010.
3-What inspired you to produce the movie through the glass?
.....: The need to explore all other talents that I have. I was just having fun shooting the movie and didn't know that it would cause such a great impact. i Am really grateful to God and to all the people who worked with me on the project, without them I don't thinkI would have been able to do it.i thank everyone that watched and are yet to watch the movie.i thank The press for their wonderful involvement in promoting the movie, I am truly grateful.
4--Stephanie, you have come so far, its unbelievable. After your accident it was just easy to assume that was the end of your career.how did you hold up?
.....: It's not me holding up, but God's strength holding me up. When I look back,i wonder how I survived the accident knowing that a lot of people die for minor accident, I have no choice but to be thankful to God for his love and mercy. I am more appreciative of each day that comes, every opportunity, everyone I come across, all the people that supported me. I'have learnt that it's really important to show love to someone especially when they are going through difficult times.i am still alive and everyday is my miracle.
5--What has been the most challenging role you have played as an actress and what movie was this?
.....: Am yet to play my most challenging role,Still waiting for it.every movie has it's own challenges,movies like Reloaded, Eye of the Gods, Enslaved and recently Dr.Nneda directed by Izu Ojukwu.
6- A lot of people beleive that you try too much to speak like an american and end up sounding like a real igbo woman,do you agree with this opinion?
.....: (laughing hard) Really? It's mother tongue interference make you no vex. I'm an igbo girl true true (still laughing).
7-If you could change one thing about nollywood what would it be?
:::::: Nollywood is an industry that is still evolving, laying foundation and setting structures at the same time have made such a huge impact with it's mysterious nature and style of filmmaking that is uniquely "Nollywood "that other industries are trying to fathom. We are rated the second in the world, and that should be something we should be proud of, I am proud, because it set the platform for me to become who I am today. But regardless we know that there are various challenges that we have that need to be addressED. Are we working towards that? Yes we are and are also asking for the support of Nigerians and all the necessary bodies to help create a more enabling environment to make the industry grOwbigger that it is now.
8-If you could change the past,what would you change?
....: Nothing, because I will not have any stories to tell, the past is part of what molds us into the future. The past adds to my uniqueness.
9-Can you share any odd experiences that you have had as an actor and how that helped make you a better person or a better actor?
.....: My accident was an odd,unexpected experience that as made me a better person. I am more cautious and I have been able to understand that as one person is thinking good,someone else is thinking evil. i Am more grateful for each opportunity that I have, to share and reach out, now i am more loving,my accident made me realise that love is the greatest gift of all.
10-Is there a charitable course that you are passionate about?
......: I reckon with any worthy course,But am very passionate about our emergency fire response system which we do no have. When accidents occur, who comes to your rescue? Or fire outbreak?a Couple of months back we had a fire out break in the estate where I live and we all were helpless because there was really no emergency number or any fire service nearby for us to call, my neighbor jumped out of the window and ended up breaking his legs. no value is placed on human life in this country and that really saddens me.in nigeria its all man to himself. I also campaign against girl child mutilation,as in the case of VVF. I support any course that will give us better health, education, Healthy environment etc…
11-Are you planning on marrying the man you are dating now?
....: At this level of my career Stella, you know if I want to talk about my personal life, I will. When i am dating and ready to re-marry, I will definitely give you the pleasure of knowing.
12-Aside from the media attention on your dissolved marriage,there has never been any negative publicity surrounding you,are you extra careful or just one of the lucky ones?
.....: Maybe your olofofos prying eyes missed me(laughs). In an industry where everything you do is public, I think it's important to guard jealousy whatever privacy one has left in order to keep sanity intact. People forget sometimes that we are human beings and thatwe go through the same situations as they do. They use us to vent out or blame us for what they are going through, we are loved but hated upon at the same time. Have I been lucky Or extra careful?I love doing my job and living my life, these come easy to me.
13-What is your beauty routine?
.....:Pretty basic, wash, cleanse, exfoliate ,apply little or no make-up except for events or work, But Must wash my face before i sleep.
14-Do you have any real friends amongst your colleagues?
.... haba! Do people have fake ones?There are couple of my colleagues i consider my buddies. so yes i do have friends amongst my colleagues.
15-If you were to have one wish,what would you ask for?
...: That whatever I do must be in line God's divine purpose for my life.
16-Thank you so much stephanie,it was nice having this chat
.....: Thanks Stella, good to see that you have re-branded ,olofofo is on a new level.
-Stella.dK
Story by www.nollywoodgists.com