...NOT FUEL SUBSIDY, BUT THE THIEVES IN OUR MIDST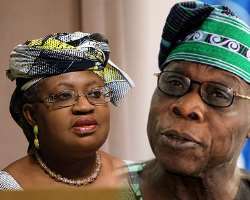 "I am all-wise, I am all-knowing" kept the wasp from having as much venom as the bee. (Whoever will not listen to instruction will learn nothing.)
"The fact that we have this debt reduction and we will be able to pay-off the balance of whatever is left will leave Nigerians free, to start on a new slate I mean it will be like a second independence, a rebirth, if you will, given us the freedom to focus squarely on our economic activities. It means that generations who would have been paying these debts in future will not have to pay it. And I think that is something that our children will appreciate and thank the President and thank the team and thank everyone who has contributed to these all". Dr. Ngozi Okonjo-Iweala Honourable Minister Of Finance on NTA Live Network Programme, June 30, 2005
Some seven years ago we called it a second independence; all our problems were going to be solved. It was Okonjo and Obasanjo at their peak. Everything that had Nigerian breath praised the duo, their economic team and prowess.
Nigerians in numbers were celebrating a joy they knew nothing about. But off course that is Nigeria for you.
We paid off a debt incurred by a few, suffice to say, a debt incurred by a cabal.
We are not all economists and no economics makes more sense than bread on our table, whether cassava or wheat, and rice too, whether Dangote Thailand, Ofada or Abakaliki.
However, the DMO tells us, what we all perhaps know, that we are denied all these because of:
Reckless and Inefficient Borrowing of few, borrowing decisions not linked to any future growth or exports taken by a few, insufficient regard given to economic viability of projects by the same few.
Poor implementation due to weak absorptive capacity and governance problems caused by a few, criminality of a few in mismatching between loan terms and project profiles and leakages associated with governance problems by the same few that are referred to as the cabal, the elite, the ruling class, and leadership.
In June 2005 Obasanjo, then President said that "debt relief had far-reaching implications, in a positive sense, for our reform agenda. That his government collectively worked very hard for it and that the results were evident, we were asked to all savour it and draw bitter lessons from the profligacy of the past".
Obasanjo rightly stated that "Nigerians got to the point where her debt burden became a challenge to peace, stability, growth and development due to political rascality, bad governance, abuse of office and power, criminal corruption, mismanagement and waste, misplaced priorities, fiscal indiscipline, weak control, monitoring and evaluation mechanisms, and a community that was openly tolerant of corruption and other underhand and extra legal methods of primitive accumulation".
"These all took place in this country, before our very eyes, and at times in active complicity by many of us. Even community leaders and religious bodies accommodated corrupt individuals and exalted them. Money replaced traditional values, money took over our souls, and we came to believe in the Machiavellian philosophy of the end justifying the means. State governments contracted huge loans with outrageous conditions and interest rates and failed to perform with the funds, most of it being squandered on white elephant projects or simply looted. We often forget that stolen and wasted funds were monies meant for growth and development especially education, health, roads, water, electricity and other social services".
"Contracts became the only basis for determining transactions and engagements within the public and private spheres". It is still the same show with the federal executive council literal a contract awarding body every Wednesday. Seven years after we are still on the same spot, the nomenclatures have changed, new actors have joined. We are have made no visible progress, same old story.
Obasanjo prayed to God that we get beyond the debilitations and develop a collective conscience that is anchored on transparency, accountability, probity, value-for-money and due process. This is one prayer that God is yet to answer going by current trends. And with the revelations coming from the subsidy scam, the findings of the dead power probe before it, one may safely conclude that we are doomed. The thieves amongst us won't let us move.
The Obasanjo administration then said it got debt relief by resolving and working hard to break with the past; by identifying new voices and new leaders; and by rejecting business as usual and voting for new values of accountability, transparency, fair competition, social justice, and the upliftment of the living standards of Nigerians. For the unlearned you would ask quickly did any of this take place in Nigeria.
The same institutions Obasanjo and Iweala revamped are the same that have collapsed so quickly and in desperate need for subsidy money to revamp again.
Many of us still cannot find the additional $1 billion or N130 billion that was allegedly pumped into human welfare budget of health, education, food security and infrastructural development.
We do not understand how the economic reform programme and development strategy championed by a strong Economic Management Team (EMT) that was home grown, globally recognized and endorsed, and by a woman of indomitable character and courage Mrs. Ngozi Okonjo-Iweala collapsed to a point, she is speaking same words she spoke barely half a decade ago.
We have refused to learn, no leader or set of leaders are ready to shoulder collective responsibility to prevent a return to the past. No commit to protecting, rather than squandering the future of our children. Rather we are greeted with a killing greed by a set of persons that will go as far as import crude oil into the nation.
It is clear evidence that with persistence, perseverance, focus, leadership, the support of the people and belief in God, battles, no matter how daunting they appear, can be won. Leadership both past and present have lacked all the virtues stated. And rather than settling the debt left, we have incurred more and spent deep into the reserves with little or nothing to show.
I will end with just two quotes and ask us to judge... "The debt relief will now provide the Federal Government and the state enough funds to embark on viable development projects with direct bearing on the citizenry. I am totally not in support of the Federal and state governments hence forth going for foreign loans for a project that can never see the light of the day in addition to projects that are not viable or those that cannot bring economic gains". Alhaji Mohammed Danjuma Goje Executive Governor – Gombe State in Daily Independent, Friday, July 15, 2005. Page A5
"...Translating into the availability of more financial resources that could be channelled into vital areas such as education, health-care delivery, agriculture, water and power supply." Otunba Gbenga Daniel, Executive Governor – Ogun State in Thisday, July 28, 2005 page 48.
...Whether we are living in heaven or hell, time, time alone, time will tell.
Written by Prince Charles Dickson.

Disclaimer:

"The views/contents expressed in this article are the sole responsibility of the author(s) and do not necessarily reflect those of The Nigerian Voice. The Nigerian Voice will not be responsible or liable for any inaccurate or incorrect statements contained in this article."
Articles by thewillnigeria.com