SCAPEGOATING MUST STOP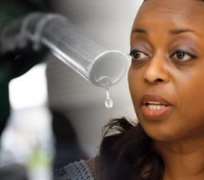 On Sunday the 15th of January 2012, the Federal Government issued a statement confirming that the decision to remove fuel subsidy was not the unilateral decision of the Honourable Minister of Petroleum Resources. The statement quoted the Special Adviser to the President on Media and Publicity, Dr Reuben Abati, as having clarified earlier that it was not a unilateral action of either the PPPRA or any government official.
The attempt to pinat pinning the the blame for the events of the past few weeks onto a single person is ludicrous and unjust – but not surprising.
The practice of scapegoating is as old as civilisation itself, and remains an all-too common practice in modern societies, democracies and otherwise. In Ancient Greece, an individual would be selected to be ritually spurned, symbolically purging the community at times of crisis, such as natural disaster or war.
The Greeks' approach to scapegoating may have been more brutal – based on physical abuse. But in some ways they showed more wisdom than our modern approach to scapegoating. Whereas they selected a beggar, criminal or the likecripple, we have tend to focus on our most skilled and competent individuals.
Why we need to keep Alison-Madueke working for Nigeria
Laying blame solely at the door of Diezani Alison-Madueke may well serve some vested interests Nigerians in a some somewhat symbolic way, a kind of ritual cleansing following a period of conflict, however. But the constant accusations sacrifice involved is very harmful to both her and the Nation. Whether you agree with Alison-Madueke's policies or not, it is impossible not to recognise that she is one of the most adept, committed and effectual ministerspoliticians we have.
In each of her three ministerial roles – as Minister for Transportation, Mines and Steel, and now Petroleum Resources – Alison-Madueke has proven and continues to prove herself both capable and consistent in her approach. What she has said she will do, she has done.
This is the case too when it comes to the fuel subsidy – making current attempts to cast her as a kind of traitor or secret operator even more unjust. Far from being a renegade or self-serving, she has worked tirelessly to implement the policies set out by the government, to do away with corruption and social injustice, and to bring about a better future for all Nigerians.
Reminder of Alison-Madueke's track record to date
Under Alison-Madueke's leadership, the current Ministry of Petroleum Resources has in a very short time put an end to fuel scarcity – a benefit felt by all Nigerians throughout the last two years. She has overseen the successful re-laying and repair of pipeline infrastructure between major hubs, ensuring improved supply to inland depots. The first private refinery is up and running in Rivers State, and Nigerian refineries are on course to achieve optimum capacity of 445,000 barrels per day.
Nigeria now routinely meets its OPEC quota, and the global community has acknowledged and expressed praise for the nation's rapid turnaround. Oil exploration efforts have been stepped up, increasing the prospect of discovering new resources for the country. The Nigerian Content Act is ensuring more of the industry's wealth goes into Nigerian companies. The pipeline-producing sector is already reaping the benefits of this change that is sweeping across the industry. The on going potential for job creation is massivehuge.
A powerful voice – but not a solitary one
Alison-Madueke has been and continues to be a strong and dedicated advocate of the fuel subsidy removal policy, but she is by no means its only supporter. As well as widespread approval within Nigeria, the policy is also backed by other major fuel-producing nations, Countries such as . Zambia, South Africa and Kenya do not subsidise fuel. Ghana is implementing a programmealso planning to remove fuel subsidies.
Alison-Madueke's consistency in speaking out in support of subsidy removal, even in the face of an on going defamation campaign and continuos mud slinging by shadowy opponent who would prefer it to be "business as usual"smear campaigning, is testimony to her strength and constancy of purpose when it comes to taking Nigeria to the next level.
It's all too easy to pin the blame on those who are striving to be have shown themselves most pro-active, outspoken and effectual. But if Nigeria is to move forwards, those are the people it will most need at its helm.
*** Written by Jabir Sukar

Disclaimer:

"The views/contents expressed in this article are the sole responsibility of

thewillnigeria.com

and do not necessarily reflect those of The Nigerian Voice. The Nigerian Voice will not be responsible or liable for any inaccurate or incorrect statements contained in this article."
Articles by thewillnigeria.com