We Must Wipe Out Boko Haram: Jonathan; Emir Of Kano Tears Up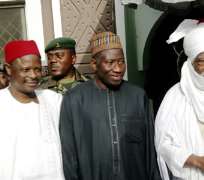 KANO, January 22, (THEWILL) - President Goodluck Jonathan paid an unscheduled visit to Kano State today, where he vowed to wipe out the elements of the dreaded Boko Haram sect, saying the Federal Government will not rest until the military succeeds in dealing with the menace of the Islamic terrorist group.
President Jonathan made the vow when he visited Emir Alhaji Ado Bayero and the people of Kano; to commiserate with them over last Friday's coordinated attacks in the city by the Boko Haram.
"The people doing this are not spirits. They are among us. I seek the cooperation of all towards getting those involved in the havoc arrested. I assure Nigerians that the government will intensify its security in Kano and all over the country to unravel the misery behind this act.
"What is good for us as a nation is to look at our neighbours, to know what they do to enable us fish out these miscreants because if we don't, one day, it may be against us. We will not rest until these terrorists are wiped out," he assured.
He urged Nigerians to be watchful of bad elements in the society, who continue to threaten 'our peace and stability,' adding that, "Nigerians should do everything possible to make sure that miscreants in our midst are immediately reported to security agents. It is the responsibility of all Nigerians to fight militancy."
The President while replying the Emir's request for increased security in Kano promised to order the deployment of more security agents in the state in addition to providing them with modern security equipment and logistics saying, "Any dangerous attack on any community is an attack on Nigerians. Some years back, none of us will believe that Nigeria will be involved in suicide bombing mission."
He therefore appealed to traditional rulers and patriotic Nigerians to educate their people on the inherent danger of terrorism.
Speaking while receiving the President in his palace, Emir of Kano, Ado Bayero, who shed tears and condemned the perpetrators of the attack on Innocent citizens in the state, said that Kano residents have been plunged into fear and apprehension, while he urged the Federal Government to do everything within its might to tackle the menace of insecurity in the country.
The Emir reiterated the fact that Kano being one of the most populous states in the country with a number of border communities should have adequate security personnel.