CORPSES LITTER KANO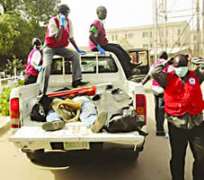 Bodies of victims of the blasts being moved to the mortuary
Corpses, including that of children, littered Kano yesterday a day after the Islamist fundamentalist sect, Boko Haram, attacked the biggest city and commercial centre of northern Nigeria. The sect also carried out a fresh onslaught at a police barracks early on Saturday.
Several corpses were seen around the Bompai Police Barracks area along Dakata by Independence Road. Sunday Sun also observed that different organizations, including the Red Cross and the police, were engaged in the collection and depositing of corpses in various hospitals in the state.
A credible account of the casualty figure said no fewer that 12 persons died in the zonal office of he Nigeria Police Force situated along Bayero University Road in the state. At least 12 police officers were reportedly killed in the blasts and the subsequent shootouts.
At the Zaria Road Police Station, it was discovered that at least seven persons died while a similar figure was recorded in the confrontation recorded at the Farm Center Police Station. The death toll from Friday's multiple attacks was estimated at 120.
Yesterday, members of the sect again launched a counter-attack on the police, killing several officers and civilians in the barracks.
An eyewitness told Sunday Sun that members of the sect launched an early morning brutal attack on the Bompai Police Barracks where there was a fierce confrontation the previous night. The sect, it was gathered, gained entry into the heavily walled barracks about 2.30am posing as fellow police officers. They were dressed in mobile police uniforms, which made it easy for them to gain entry. They reportedly went into several houses and shot at officers they met.
It was also learnt that they took over control of the streets leading to the residence of the Assistant Inspector General of Police, Zone 1, Alhaji Abubakar Mohammed, along St. Louis Church and Sule Gaya roads firing heavily in the area in the night. The Personal Assistant to the AIG was killed in the shoot-out as he went to rescue the family of his principal trapped in the area. The family members were however ferried to safety.
A team of fierce-looking soldiers has taken over the operations and security of the state patrolling the state capital to enforce the curfew. Meanwhile, hundreds of persons who lost loved ones have been going round the morgues in search of their relatives. In some of the homes hit by the tragedy, family members were seen discussing how to retrieve the corpses of their relatives from the government hospitals where they were deposited.