Look at Actress Ifeoma Okeke of Nigeria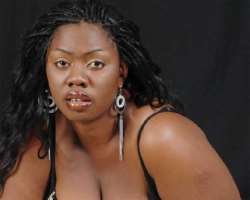 Look at Actress Ifeoma Okeke of Nigeria exposing her boobs and maybe nipples too. U can see her pink boobs popping out. She should undressed herself on national television too. G8 girl.
Asked one certain time about her relationship,she said, I don't have any regret about my self, the only regret I have was my last failed relationship. If God can please give me another chance to turn back the hand of time, I will tell God that I'm sorry, that I need an opportunity to amend the two years that I spent in that relationship.
I have never regretted anything in my life like that. Apart from that, I love the way I am, though I'm fat but I'm 5.8 tall. So, am tall enough and I have a pretty face. I'm not saying I'm perfect but, as a human being I'm just okay
Thax..for accepting your mistakes on your failed relationship.
God will give you another chance..,but pls be careful this time around…… those boobs of yours
Your boobs are not too bad..try and keep fit
But wait ooooo.I hope her boobs are not fake. But she's been lying about their size. the boobs are not a 32DD, they are at best a C cup
Best body ever? Her ass is not finishing what her boobs started,maybe thats the reason for the failed relationships . I want to smoke a blunt with Ify Okeke. Damn big bust..bumper to bumper.Maybe it will give her the test of a true relationship
Hahaaaaaa may be all these retarded lovers are all jealous because she is beautiful.All the kick and go lovers are probably sitting behind the television now and wishing they had her boobs. You guys are probably looking under you sports bra ha!!! FUCK.
Story by www.nollywoodgists.com