IBM, Other Tech Results Point To Robust IT Demand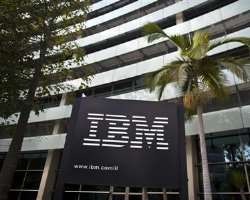 THE IBM LOGO IS SEEN OUTSIDE THE COMPANY'S OFFICES IN PETAH TIKVA, NEAR TEL AVIV IN THIS OCTOBER 24, 2011 FILE PHOTO.
A strong outlook from IBM and decent results from Intel Corp and Microsoft Corp suggest that corporate decision makers are shaking off nervousness about economic growth and boosting spending on technology.
IBM, the world's largest technology services company, easily beat Wall Street's fourth-quarter profit expectations and promised earnings growth of 10 percent this year.
Intel, the leading microchip maker, announced ambitious spending plans after reporting quarterly results that topped scaled-back analyst forecasts.
Microsoft's results were largely in line with expectations, with growth in its servers and tools business offsetting weakness in Windows sales to PCs.
"Those results look largely favorable," said JMP Securities analyst Alex Gauna. "So far what we have seen in technology, looks like we are turning the corner and things are getting better. Turning the corner in terms of cleaning the excess inventory in the channel and seeing a better demand outlook."
Microsoft, IBM and Intel have a combined market capitalization of about $580 billion, representing 15 percent of the Dow Jones industrial index. Shares of IBM shares rose 3 percent in extended trading after its results, while Microsoft shares rose 2 percent and Intel shares rose 1 percent.
The only downer in the tech world on Thursday was Google Inc, whose quarterly results fell far short of high expectations set by strong online shopping during the holiday season, sending its shares down 9 percent.
"Expectations had got ahead of themselves for Google, largely because investors don't have a good feel for what happens outside the U.S.," said Stifel Nicolaus analyst Jordan Rohan. "North America has remained strong, but there are parts of the world where there's a lot of economic pressure," he said, pointing to austerity measures in Europe.
IT SPENDING HOLDING UP
Prior to Thursday's results, other technology giants had sent mixed messages about global IT spending.
Software maker Oracle Corp, for example, missed expectations last month and outsourcing company Accenture Plc spooked investors with its cautious quarterly outlook.
But Oracle rival SAP AG pleased the market last week with sales and profits that beat estimates, signaling global companies were confident enough to spend more on technology.
IBM, a tech bellwether because of its global reach and scale, said strong signings of services contracts and its services backlog put the company in a solid position as it starts the year.
"When you look at the overall pipeline going into 1Q for software and services ... I think they look pretty good," IBM Chief Financial Officer Mark Loughridge said on a call with analysts on Thursday.
Asked if, like Oracle, IBM was seeing longer approval times for tech spending by companies, Loughridge said: "As far as lengthening of the sales cycles, more approvals, I do think people and CFOs are cautious about their business and they want to make sure they have the right processes engaged and we did see that."
CONSUMER VS CORPORATE
Sales at Microsoft, the world's biggest software maker, were strong even though its profit slipped as slower personal computer sales to consumers hurt its Windows software business.
But even as consumers fled to cheaper tablet computers from rivals, Microsoft boasted strength from business customers and in emerging markets where computer demand was healthy.
"We all expected the PC market to be weak and the Windows business was down because of that. But the server and tools business is growing well," said Sunit Gogia, an equity analyst at Morningstar.
Kim Forrest, a senior equity research analyst at Fort Pitt Capital Group in Pittsburgh said that all the tech results showed strong demand for products from which corporations expect a future benefit, such as improving employee productivity.
"It means despite a slowing economy in Europe and other places there's companies still spending on productivity-enhancing technologies," Forrest said. "There has been a lot of M&A in the past years and the companies that made smart investments are seeing them pay out."
REUTERS