Madalla Bombing: Senate Launches Probe On Escape Of Alleged Mastermind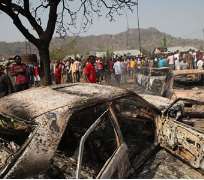 ABUJA, January 19, (THEWILL) - An obviously embarrassed Senate on Thursday ordered an immediate inquiry into 'the very scandalous escape of a major Boko Haram suspect from police custody'.
It mandated its committee on police affairs to conduct a thorough probe of the escape of the alleged mastermind of the Christmas Day bombing of St Theresa's Catholic Church, Madalla, Niger State and turn in its report within one week.
The suspect, Kabiru Sokoto, a member of the Islamic terrorist sect Boko Haram, which claimed responsibility for the attack, was arrested at Borno State Governor's Lodge, Abuja, last Saturday but escaped under controversial circumstances last Sunday when he was led to his Abaji, FCT residence by about 10 policemen.
Commissioner of Police (CP), Zakari Biu, who sent his men on the mission, has since been suspended and placed on 'close arrest' by the Police High Command while the job of Inspector General of Police, Hafiz Ringim is on the line.
Citing order 42 (2) of the standing rule of the Senate, which deals with matters of urgent public importance, Chairman Senate Committee on Police Affairs, Paulinus Igwe raised a motion on the floor of the Senate to probe the escape of the alleged bomber.
"I want to draw the attention of this Senate to the alleged escape of Kabiru Sokoto who allegedly masterminded the Christmas Day 2011 bombing of St Theresa's Catholic Church, Madalla, Niger State from police custody. I therefore in line with our order 42 (2) rule of this Senate to move a motion on this subject matter on another legislative day".
President of the Senate, Senator David Mark on his part noted that following a discussion earlier with Sen. Igwe on the issue it would be better for the Committee on Police Affairs to launch a full scale investigation into the matter and report back to the Senate within one week.
He said, "What he wants is that the Committee on the Police Affairs should commence full investigation because of the nature of the matter which borders on security, I will suggest that the Senate mandates the Committee to commence full investigation and report back to us within one week."