CALL YOUR PEOPLE TO ORDER, S-EAST SENATORS TELL NORTHERN GOVS, MONARCHS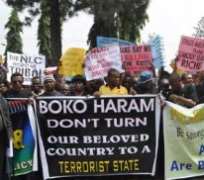 By Henry Umoru
ABUJA-WORRIED  by the killings of Nigerians, especially Igbo, in some Northern parts of the country, South-East Senators, Wednesday, urged Northern governors and traditional rulers to call to order their subjects and educate them on the need to respect the sanctity of human life.
The Senators also called on governors from the north to come out and condemn the killings as well as take appropriate steps to prevent further escalation of what they termed 'senseless killings.'
In a statement by the 13 Senators from the South-East geo-political zone, the Senators said: 'The Federal Government should wake up to its responsibility of protecting lives and property of all Nigerians wherever they may live.
Cross Section of Abians during a peaceful pProtest against the killings of Igbos in the North and their support for the removal of oil subsidy in Umuahia.
'The state governors and leaders of the affected Northern states should openly condemn these killings and take appropriate steps to prevent further escalation of these senseless killings.
'In this regard, we urge the traditional rulers to call their subjects to order and emphasise the need to respect the sanctity of human life.'
Commend FG on compensation
They also commended the Senate for urging the Federal Government to work out appropriate compensations for victims of these killings, especially victims of the bombing of the Catholic Church at Madalla, Niger State; killings in Mubi, Adamawa State, and Gombe, Yobe and other locations.
They said: 'We urge security agencies to give priority to threatened groups, especially the Igbo, in the Northern part of the country, since they appear to be a targetted group in the recent spate of killings.
'We condemn the deafening silence of  members of the human rights community and urge them to speak up on these killings.'
Signatories
Senators who signed the statement include: Deputy Senate President, Ike Ekweremadu, PDP, Enugu West; Senators Nkechi Nwaogu, PDP, Abia North; Enyinnaya Abaribe, PDP, Abia Central; Chris Ngige, ACN, Anambra Central; Matthew Ifeanyi Nwagwu, PDP, Imo North; Sunday Ogbuoji, PDP, Ebonyi South and Hope Uzodinma, PDP, Imo West.
Others are Senators Uche Chukwumerije, PDP Abia South; Chris Anyanwu, APGA, Imo; Ayogu Eze, PDP, Enugu North; Chris Nwankwo, PDP, Ebonyi North; Paulinus Nwagu, PDP, Ebonyi Central and Gilbert Nnaji, PDP, Enugu East.