Xmas Day Bomber Escape: GEJ To Fire Several Security Personnel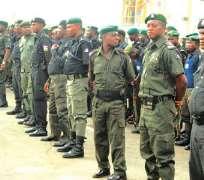 SAN FRANCISCO, January 18, (THEWILL) – President Goodluck Ebele Jonathan will anytime from today order the reorganization of Nigeria's security agencies with several police officers expected to be affected by the mass purge and restructuring, a Presidency source familiar with the development said Tuesday.
The source, who asked not to be named, said the President had been consulting with his close advisers on where to make drastic changes amongst the security agencies, but that following the Christmas Day bomber's embarrassing and dramatic escape from police custody on Monday, "the President will start with the reorganization with the police from the top to the bottom." The change according to the source, will involve a holistic reorganization of the force.
THEWILL gathered that a bill will be sent to the National Assembly with a view to making police officers more accountable for their actions as it is with other security agencies that carry firearms.
The Minister of Police Affairs, Captain Caleb Olubolade (Rtd) Wednesday in a chat with journalists confirmed that some officers will be removed from the police force.
Olubolade was commenting on Kabiru Sokoto's escape from police custody. He said the Inspector General of Police, Mr. Afiz Ringim had been issued a query over the matter while all the officers who were involved in providing security for the Boko Haram high profile suspect have been detained.
THEWILL also gathered that President Jonathan had in an earlier conversation with Ringim expressed his utter dismay and frustration with the Nigerian Police Force while directing that the suspect be recovered immediately.
The Commissioner of Police in charge of Zonal Criminal Investigation Department at Zone 7, Police Command Headquarters, whose office the suspect was placed, Mr. Zakari Biu, has appeared before a panel of police investigators to answer questions relating to the incident.
Biu, who hails from Borno State, the headquarters of the Boko Haram, alongside many other officers would be retired from the force, our source added.