JTF Disbanded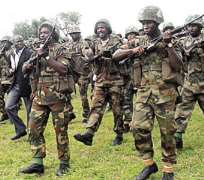 PORT HARCOURT, January 16, (THEWILL) – The military enforcement outfit named the Joint (Military) Task Force (JTF) Operation Restore Hope in the Niger Delta has been disbanded following a directive by the federal government, THEWILL can report today.
In its replacement, government has created a new military unit tagged 'Operation Pulo Shield', specifically to combat acts of piracy, pipeline vandalism, illegal oil bunkering, crude oil theft, illegal refining and kidnapping in the Rivers and Bayelsa States.
All the troops of the JTF have been moved to the new unit.
Brigadier General Yusuf Tukur Buratai, the Commander of the 2 Brigade Port Harcourt, told journalists Monday during a press conference in Port Harcourt, Rivers State, that the aim of the reorganization is to stem the tide of economic sabotage in the region.
"The JTF Operation Restore Hope, has been transmuted from that name to Operation Pulo Shield. This Brigade is given the added responsibility of conducting its operation in Rivers and Bayelsa States.
"The JTF task of Restore Hope has been virtually completed. We now have a new challenge coming up such widespread oil bunkering, pipeline vandalism, and you know the oil sector play a very vital role in our economy, we will not allow it to be destroyed.
"The essence of this Pulo Shield is to protect Oil facilities, to prevent oil bunkering, sea piracy, and illegal arms importation across the Niger Delta…"
Brigadier General Yusuf Tukur Buratai has assumed the command position of Pulo Shied as well as being the commandant of the 2nd Brigade.