FG PLANNING TO SABOTAGE LAGOS PROTESTS -ACN ALLEGES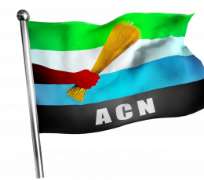 The Action Congress of Nigeria (ACN) has expressed concern over the rumoured plan by the Federal Government to send thugs to the peaceful protests at the Gani Fawehinmi Park in Lagos and other parts of the city to instigate violence as a pretext for declaring a state of emergency in the state.
In a statement issued in Lagos by its National Publicity Secretary, Alhaji Lai Mohammed, the party warned the government to desist from such act and allow people to continue their peaceful protests or revert to the old petrol price.
It said the Federal Government, having failed to use ethnicity, religion and the massive infusion of dirty funds to divide organized labour, might now want to try other tactics to instigate trouble so as to clamp down on citizens whose only offence is that they protest against an insensitive government policy.
ACN reminded the Federal Government that the freedom of assembly, freedom of speech and the right to protest are all part of democracy, hence no democratically elected government can truncate these rights and still hope to maintain its sovereignty.
''Since the fuel strike started, we have noted the increasingly bellicose rhetoric emanating from the Federal Government. We have reasons to believe the not-too-subtle threats are a precursor to something sinister by a government that has pushed itself into a cul-de-sac, from which it is now looking for a face-saving way out.
''While we abhor violence as an instrument of protest, an ACN culture that is well known, we must warn that issuing military-era threats are not compatible with a democratic dispensation, and that no amount of force on earth can suppress a determined people,'' it said. The party noted that since the nation-wide strike started, organized labour and civil society groups have conducted themselves in a peaceful manner, even when a few trigger-happy policemen have confronted them.
''In particular, the civil society-anchored demonstrations at the Gani Fawehinmi park in Lagos has set a new standard on how to stage non-violent protests. Speakers after speakers have exhorted the massive crowd that turned out at the park daily to abhor violence. Leaders of both Christian and Muslim faiths have been brought to show that sectarian violence cannot be used to divide the people. Music has been used effectively as a means of dousing tension and letting off steam.
''It is therefore clear that unless the Federal Government has a hidden agenda, it should rather hail the organizers of the Lagos protests, instead of planning to infiltrate their ranks with thugs as it has done in Abuja, where thugs were reportedly sent after peaceful protesters,' it said.