MIKEL INSPIRED ME TO PLAY FOR CHELSEA- OMERUO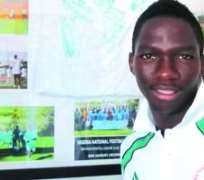 Omeruo
Nigeria Under-20 star, Kenneth Omeruo, has signed for English Premier League club, Chelsea, and has been loaned out to Dutch club, ADO Den Haag.
In this exclusive interview, he tells MTNFootball.com he will work very hard in the Dutch league and look up to compatriot, John Mikel Obi, so as to also make his way eventually to Stamford Bridge.
I'm happy to put pen to paper for a top club like Chelsea, Omeruo started.
' I was very happy. I didn't know it would happen so fast because Chelsea is one of the biggest clubs in the world.
' Chelsea technical director Michael Emenalo, is also a great motivator to the deal.
'He congratulated me and most importantly said discipline and hard work are the only keys to success. He wished me well. He was very supportive.
'When my pre-contract expired and there was an offer on the table from Chelsea, my agent and I decided it would serve my career better if I took the big step forward and sign for Chelsea.
Otherwise, Standard was wonderful and very friendly and the club treated me very well.
The only difficulty I encountered while I was there was the language (French) but otherwise every other thing was fine.
From what I understand, by the time I travelled with the Nigeria Under-20 team for a training camp in Portugal till the end of the Under-20 World Cup in Colombia, Chelsea was keeping tabs on me.
I was supposed to be on loan in the first instance to ADO Den Haag, but the team is away on a training camp in Spain and I could not make it in time to go with it, but as soon as it is back and all the paper works are fixed, I will start training and hope to play as soon as possible even though everything will depend on the coaches as he picks the team.
I have already met with the coaches and they have been nice and warm.
'EPL is the biggest league in the world – big crowds every week, goals, passion and no team can be taken lightly. The media focus is also incredible.
'My favourite clubs are: Chelsea, Manchester United and Arsenal. It is great to follow these teams season after season as they fight for titles.
'This season is very tight to call, but I would still expect it to be among Manchester City, Chelsea and Manchester United even though some may argue that Chelsea is well off the pace. 'I admire Mikel for how far he has come at Chelsea. It is something I also wish to do. I also like all the players from Africa (Didier Drogba, Michael Essien, Salomon Kalou). I also love the fighting spirit and work rate of skipper John Terry.
'I understand I was needed, but at that time I was without a contract and it became very difficult for me… it was sad I could not make it and even sadder that we failed to qualify for the Olympics.
'I have featured for Nigeria at U17 and U20 levels, but i need to be a regular full international who has played 75% for the country to secure a work permit in England.
I am not at all under pressure for God has done things much difficult for me.
I have already been in the Super Eagles twice, and what I need do is to get those playing times by first playing very good in the Dutch league, make less mistakes and continue praying because everything is possible with God.