WHO HOLDS THE REINS OF GEJ'S GOVERNMENT?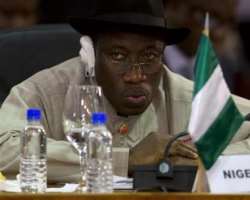 PRESIDENT GOODLUCK JONATHAN
It is most appropriate at this moment to ask this probing question, "who holds the reins of President Goodluck Ebele Jonathan's administration"? Who are GEJ's advisers? Who are members of his inner caucus? What constitutes his critical thinking team? Who are the President's "men"?
It is rare for a Nigerian to be given such total support from literal political obscurity or financial irrelevance and austere economic background like GEJ himself openly told Nigerians during his 2011 Presidential Campaign. To some, these credentials warmed his person into their hearts and made him candidate of their choice because it was easy for most to identify with such a background. To some it was because he identified with a generational shift from holders of that position in the past whose ages and educational background were far older and less learned in letters than GEJ. To some it was a thankful sigh of gratitude that for the first time the geographical South South Region that had agitated most for the priced position finally got the slot. Whichever group above, much was expected, is expected and will be expected from GEJ whether he knows it or not. It is pay back time for those expectations mentioned above.
Recent happenings within GEJ's first year as President and Commander-in-Chief of the Federal Republic of Nigeria shows the keen observer that either GEJ is still oblivious of the fact that he is occupying the office of President of the Federal Republic of Nigeria and needs to remove the cap of his primary socialization and put on the cap of his current status and act same lest the support for him due to his affable and humble background be forgotten within a very short time frame.
When GEJ puts away the cap of the fisher boy carving and rowing canoes in the creeks of Bayelsa and puts on the cap of the President and Commander-in-Chief of the Federal Republic of Nigeria, his grey hair will triple its color in one week if he must transform Nigeria in tandem with his agenda and effect a change that can meet expectations from all mentioned above. It is immaterial whether all expectations can be satisfied. But there will be appreciable manifestation to the fact that Mr. President knows his onions and is capable of the onerous task thrust on him by destiny.
It is obvious that from past heads of States in military uniforms to present Presidents in flowing garbs, none has dared touch the tempestuous subsidy removal with guts shown by GEJ. There is no doubt that this singular act will help Nigerian economy in no small measure. But the marketing of this act must not be toyed with nor handled with levity as is being orchestrated. So many write-ups abound on the pros and cons of removal or none removal of oil subsidy to which some do not even believe subsidy ever existed but was a creation of past leaders to loot Nigerian treasury through the creation called NNPC and its mysterious operations known to only a conclave of select beneficiaries. It is obvious from the current happenings that bold as this step by GEJ maybe, it either has been intentionally made to be counter productive or GEJ's managers need be penalized for a job poorly executed.
There are economic as well as political considerations in dealing with the issue of subsidy in as much as we are past military fiats. Economic considerations no matter how altruistic and germane can never be successful without clearly thought out political strategy to market the bitter pills associated with the prescription for subsidy removal as they affect the populace. Palliatives and alternatives with consistent mass education preparing the populace towards impending fracturing of social status for a better future from this act were clearly absent. The sudden nature of effecting the short term bitter prescription couldn't have been more anti populace especially as those who travelled for the Christmas holiday maybe stranded for weeks if not months due to inability to pay their way back to their destinations bearing in mind the way Christmas holidays are usually celebrated in Nigeria. January 1st could never have been a date for such ill timing! No such stranded parent, student, dependant, or civil servant will have a blessing in their lips for GEJ but heaps of curses as has been since the pronouncement. To even think that the Finance Minister who bestrides as headmaster of GEJ's Cabinet is even said to have estimated the subsidy removal to be scheduled for April 2012 or thereabouts makes it worse for the populace to trust an administration that seems to be saying one thing and doing another.
Now that GEJ is in the middle of the storm, where is his party the PDP? GEJ belongs to a political party whose manifesto is being translated, interpreted and executed for the benefit of the populace whose votes gave the party the victory. Where is the PDP National Working Committee (NWC)? What has the party's spokesperson got to say to the Nigerian public on this sudden pain thrust on the people by the ruling party? What is the National Chairman and his fellow colleagues in the NWC doing? Will they allow GEJ to stew in his broth or do they have a part to play in the rising storm surrounding the fortunes of its hold on power? Does the party hierarchy understand its role and the expectation of the people from it or it is bereft of ideas in situations like these and calling for scheduled congresses as seen on national television amidst this crisis of confidence?
I write with pain as a former member of the National Working Committee who witnessed a similar "volcano" led by Comrade Adams Oshiomole then Labor Leader in 2000 when fuel prices were increased by President Obasanjo from N20 to N30. It took the initiative of the Gemade led National Working Committee to bring to a halt the crippling effect of that strike even-though I was blamed as National Publicity Secretary and held responsible for distancing the party from the act of government and calling for a truce to enable the party intervene to negotiate a more people friendly price index that wouldn't dislocate the average living standards beyond reasonable limits. That intervention saved the PDP government the shame of being grounded by labor and opened a window for dignified renegotiation. Nigerians were the better for it.
There are so many agencies plus the ministry of information whose responsibility it is to disseminate information and educate the populace on government policies especially those that would affect drastically their social equilibrium. Where are these organs of government? What is their effect on the looming disaster facing Nigeria? Or can we take it that there is a disconnect in the running of government? These days of social media networking, except those responsible with managing government information are capable and proactive, anyone could sell mischief to the populace and exploit a vacuum identified within any government.
Or could it be that there is no inner caucus within GEJ's core that can sit with him and x-ray issues that would in some cases be bitter pills for the President to chew and help him maintain a dignified withdrawal or step on toes that must be in other to deliver on his transformation agenda? A leader must have within his core; some radicals, technocrats, politicians and general run of the mill concur members to be balanced in leadership. I need to be informed on this mix in GEJ's cabinet as it now stands.
From the foregoing, it has become glaring that GEJ may have the best of intentions for the country but has no team capable of midwifing and marketing those intentions to Nigerians and the world at large. The implications of this statement can only be left to the imagination if GEJ doesn't do a reality check on his intentions, his deliveries and his impact and how to effectively communicate these good intentions beyond his gatekeepers whose aims maybe at variance with his avowed humble beginnings. No amount of prayer from the church or mosque can achieve much if the right managers are not employed to deliver on the good intentions.
God help GEJ!
Hon. Emmanuel A. Ibeshi. (Former National Publicity Secretary of PDP).
Disclaimer:

"The views/contents expressed in this article are the sole responsibility of the author(s) and do not necessarily reflect those of The Nigerian Voice. The Nigerian Voice will not be responsible or liable for any inaccurate or incorrect statements contained in this article."
Articles by thewillnigeria.com