TAMBUWAL: SALUTE TO CHIVALRY AS SPEAKER CLOCKS 44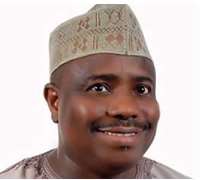 Heroes are sometimes helped by the mood of their age. Speaker of the House of Representatives, Hon Aminu Waziri Tambuwal, emerged on the national scene at a time Nigerians thought they were long past the era when a few politicians thought the voice of the people did not matter with regard to who their leaders should be. It was not surprising therefore when there was an understandable outrage when Nigerians learned the ruling Peoples Democratic Party (PDP) leadership had already decided who the Speaker of the House of Representatives would be weeks before the inauguration of the seventh Assembly in June last year.
Notwithstanding the depth of their rage, it would have simply petered out like in the past. But a legislator from a geo-political zone virtually ruled out in the contest was also thinking of changing the norm. It's only because he celebrates his birthday on January 10 that we realize just how young he was then - 43.
Tambuwal was not simply driven by the chivalrous desire to shake up the system; he went into the contest with the conviction that he would offer the legislature and Nigerians a better deal as Speaker of the House. His colleagues thought so too, a point that shows in the fact they gave him 252 of their votes and a distant 90 to his then opponent, Hon Mulikat Akande-Adeola.
He may have been aided by the electorate's mood; but it was not a goodwill that came on a platter of gold. He certainly earned it. In other words, he did not merely seek to tap into the disgust felt by his colleagues for the norm; he understood strongly that their commitment can't be taken for granted. It was a shared dream of which he was only the face.
Born on January 10, 1968, in Tambuwal, Sokoto State, the Speaker had a beginning that was centred around discipline and moral values. As a child, he became the cynosure of all eyes because of his intelligence, academic brilliance and upright character. In tandem with the maxim that "the greatest ornament of an illustrious life is modesty and humility," Speaker Tambuwal has made these and other virtues his guiding principles.
His ascendancy to the position of number four citizen of Nigeria is a product of providence, hardwork and fidelity to the cause of justice and humanity. As he celebrates his birthday, it is not just the intriguing narrative of how he was elected Speaker of the House that should resonate. That experience should also serve as a reminder of the many profound achievements we could record if we rise above the inhibiting considerations of tribe and religion.
Importantly, since his election as the Speaker of the Federal House of Representatives, Tambuwal has performed his functions excellently to the admiration of his colleagues and Nigerians as a whole. In all his utterances and actions, he has been guided by the need to do what is proper and what is in the best interest of Nigeria.
At 44, Tambuwal's youth points to a future of hope and possibilities. Besides, his apparent willingness not to be encumbered by the political exigencies or double-speak that had stunted our progress is quite inspiring. For him, what matters is the nation's interest. Call that an unyielding idealism and you won't be entirely wrong. You would have a similar outlook if you were in his shoes - the fact the political doors had almost been shut against him. But that's not implying he is averse to compromise; he demonstrated that virtue shortly after his election as Speaker when he humbled himself before his party leaders. Yet, that did not muffle this message: at least, the people now have a Speaker whose emergence had no familiar taint of the past. There is no better incentive to service.
Born in Tambuwal town into the royal family of Waziri Tabuwal, younf Aminu attended Tambuwal Primary School, and Government Teachers' College, Dogon-Daji also in Sokoto State where he obtained the Teachers Grade 11 Certificate in 1984.
He then proceeded to Usman Dan Fodio University, Sokoto, where he studied Law, graduating with an LLB (Hons) degree in 1991. He did his one year compulsory legal studies at the Nigerian Law School, Lagos, obtained BL and was called to the Bar in 1992.
Besides studying for law degree, the Speaker has attended several courses abroad, among which are the Telecoms Regulatory Master Class–Bath UK, 2004; Lawmaking for the Communications Sectors –BMIT, Johannesburg, South Africa, 2004; Regulating a Competitive Industry-UK, Brussels, 2005; Tulane University – International Legislative Drafting, 2005; Stanford Graduate School of Business – Influence and Negotiation in 2008 among many others.
As Tambuwal celebrates his birthday today, there is no better way to appreciate his efforts than to admit the fact that the history of the seventh session of the National Assembly would never be complete without a proper mention of him as its standard bearer. To this man, we say a glorious and happy birthday.
** Imam Imam is the Special Adviser on Media and Public Affairs to the Speaker of the House of Representatives.
Disclaimer:

"The views/contents expressed in this article are the sole responsibility of

thewillnigeria.com

and do not necessarily reflect those of The Nigerian Voice. The Nigerian Voice will not be responsible or liable for any inaccurate or incorrect statements contained in this article."
Articles by thewillnigeria.com