Why We Are Reviving The Village Headmaster –Olusola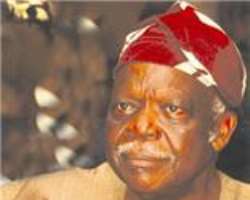 Ambassador Segun Olusola, the founder of Africa Refugees Foundation, is a personality that remains engaging in the analysis of issues. Such was the situation as he dissected the relevant issues confronting the nation and his plans of reviving the popular 'Village Headmaster,' in this dialogue with our REPORTER, Darlington Abuda. Excerpts.
Why is the response 'Nigeria' when you pick your calls?
That was picked up when I was serving as ambassador to Ethiopia. I served as the Nigerian ambassador there and the representative to the African Union. Before I became an ambassador, each time I picked up a phone my signpost more or less was programmes and after awhile I changed that to television. This happened because I was director of programmes and programmes producer all my working life in broadcasting. And when I became a senior person and managed other television stations, my signpost changed. When I then became an ambassador, each time I picked up the phone, I would say this is Nigeria. Nobody stopped me from saying it. I came back after my service and established the African Refugees Foundation among other things, but I still use the signpost, Nigeria. All I can say is once an ambassador, always an ambassador.
Based on your career in broadcasting, would you do a comparison on television then to what currently obtains in the country?
Well, the industry has grown tremendously. And I have been one of the most privileged practitioners in the industry that you can think of. I started as a features producer in Radio Nigeria and when television came on the scene almost exactly 50 years ago, and looking back at the 50 years of television it has been development all the way. I am not only a pensioner of NTA, because that is where I retired from before I became an ambassador, I am also a director of DAAR communications. I got involved with that because it was a great idea when it started and I will do everything to ensure that the existence of independent broadcasting organisations is sustained in this Nigeria.
I have vested interests in the growth of television broadcasting in this country and I hope that the competitiveness it has generated will continue in a manner that will let creativity bloom.
Can you give us an insight into some of the television programmes you have been involved in?
There was a very casual entertainment based programme we called Take A Trip, a competition programme with two starters each beginning in Lagos and Calabar, going up north to Kano and you march all along till someone won. I presented it and also produced it after awhile. I enjoyed that programme and even more so, because as a presenter, I was very popular. People knew me all over the place with my catch phrase "advance three squares." The programme ran for years and one particular episode that I always remember is returning from an outing in Yaba one evening with a senior military officer who was driving. Soldiers on Carter Bridge stopped us because it was past curfew hour.
He identified himself as a General, but maybe because he wasn't in uniform, the soldiers refused to pay him his due respect and let us pass. Then they put the light against my face and saw me, immediately they said, "oh Mr. Take A Trip please pass." So here was I, a presenter of a television programme being given leeway by soldiers while a senior military officer was ignored. Television people don't forget scenes like that where they are celebrated. I remember that programme and wish we could have more programmes like that today. I believe the new generation of broadcasters can do things like that. But there have been several other memorable patches in my career. I came back home one day when a very popular programme that I was supposed to be in charge of was on air, but instead of watching it, my children put ayo on the table, killed the volume of the television set and started playing. I got back and was stunned at what I saw, but when I expressed my surprise at them for not watching a programme that everyone else in Lagos was watching, they couldn't be bothered.
This was one of the experiences that cultured me, I was doing something I felt was great, but my own children didn't think it was worth sacrificing their own time for. So it made me realise the power of the television viewers to turn off and it scared me. We used to think that when we broadcast particularly in what was the only television station that was readily available at that time that people would watch. But the viewers have a choice between watching and doing something else. This should cause broadcasters to ponder before they take anything for granted: the audience always has a choice.
You were part of The Village Headmaster, what was the concept of that production?
I was privileged to have created the series, and together with several of my friends, some of whom have now passed on, to produce this piece. This is a story I cannot tell without fond memories. My late wife was the actress who played Sisi Clara; the person who became the Alaye Ode of Ode Remo was an actor in it, and was not the only one. The Village Headmaster was really a play that had an opportunity to deal with a current problem at the time, which I believe is still relevant today. It is the question of strangers in our communities. The play was set in the Yoruba speaking area of the country and in that location there were Hausa kolanut traders, Igbo traders and others. It was a mini Nigeria. Our attempt at that time was to let these characters live their lives in a community that was grafted in the larger Yoruba society, but consisted of people from the different parts of the country. I enjoyed it. I will let you know that we are in the process of reviving The Village Headmaster. Chief Tunde Oloyede, the longest serving producer of the play, is the one handling it now. When they start producing I am going to be there to watch it happen and render any assistance I can. But I would like for this generation of television viewers during this year of its 50th anniversary in Africa to get involved and see the notion of television theatre that we had in mind. I want The Village Headmaster to get involved in current problems that we have in Nigeria and if we are lucky and get the right sponsors, then the drama series will begin to run early next year.
Nigeria clocked 49 two months ago. As one who has seen it all through, can you comment on the achievements recorded so far?
It is frightening really because I never thought I would live to see the country this far. I grew up having this feeling of not lasting more than 30 years, but here I am on my 75th birthday and Nigeria is still running. I think that our country Nigeria is going to last for all time. I believe there are going to be changes particularly changes in the structure of governance. I do not believe that the 36-state structure is forever. There are going to be easier ways of administering this country and certainly the local government structure and restructuring may very well be the way out.
I am not saying a local government is going to be so powerful as to take away the sheen from the Federation, but the way the states are presently has thrown up several challenges, either to states as they are or groups of states as they would be if they are tempted to try out the Federation. I think we ought to get used to travelling out and seeing our country. I have done several road journeys in my working life as features producer for radio and a cultural worker. Since then, I have been privileged to travel to just about every part of this country. For example, I have done a road journey from Jos to Damaturu via Bauchi. I think that this is a great country. If we could accept rendering services at local government level, then the Federal government will see itself as the coordinator of the activities at this level. This would ease some of the tensions that had been built up at the state level.
What informed your view on the change in the structure of governance?
In discussing with people from different parts of the country, it is evident that they are more concerned about their everyday needs like schools, colleges, water system, and road system. And they will do anything and everything to ensure that services that come with local government are sustained and managed. The concern of people in the various states as we know them today, name anyone, is that the communities can be developed at local government level. And this is true particularly in Delta State where you have Igbo, Urhobo and Itsekiri communities, to name a few. That is why I think of these places as cities or towns, and not as a combination of states. I get into Warri, for instance, and there are many things that concern the Itsekiri people in Warri that need not be dealt with at the state super structure level. Warri can get by with an urban management structure that looks after the people of Warri. That is the way I see us developing in the future.
What do you think needs to be put in place to accelerate the development in a manner that will benefit everyone?
There is really nothing I can add to the spate of activities going on other than that the spate of activities would be more relaxed, manageable and predictable if we are thinking of us as a federation of communities like I mentioned earlier. The only other caveat I would give is to ensure that the nationality of Nigeria is raised above all. We are all Nigerians and should not enable those communities to set up a new set of citizenship. What I mean is that a Nigerian will be a Nigerian no matter what community he belongs to. What should be cherished is the fact that we are Nigerians, the communities are development areas and I don't wish for a situation where there are going to be strangers who are Nigerians in any of those communities. I would promote the acceptance of that new Nigeria by everybody. So you can settle anywhere you want to settle and develop anywhere you want to develop, because you have one citizenship. And for purposes of convenience and development, you belong to communities.
How does this situation play in the face of ethnicity and language barriers?
Languages are no barriers, they are just technical systems of communication. So it can't be a barrier and if it is such a barrier then, learn the other person's language. Any language that can be retranslated and reformulated or learnt cannot be a barrier. The thing that happens at times is that you go to a school in Ajegunle here and there are about 70 percent of children in that school from eastern or northern territories. Only about 30 percent are children from Yoruba speaking areas, and you call those 70 percent strangers simply, because they are from non-Yoruba speaking areas. They cannot be strangers, rather members of the Ajegunle community, and there are such developments in Sabo Sagamu or in Sabo of the teaching hospital here in Lagos. Let people settle where they choose to settle and do not create multiple citizenship in our Nigeria. So the fact that you are in this community does not make you a stranger in another community. I am looking at a state where we will not go to war, simply because of language difference or places of birth. And if we elevate our Nigerianess to that level we will probably do better
Story by http://nollywoodgists.com