3rd Millionaire Emerges In UBA Lion King Savings Reward Promo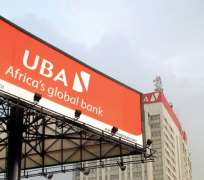 LAGOS, January 06, (THEWILL) - The rank of millionaires has began to increase as another United Bank for Africa (UBA) Plc customer yesterday became a millionaire in the ongoing UBA Lion King Savings Rewards Promo, organised by the bank to inculcate savings in Nigerians.
At the weekly draw held at UBA's Head Office in Lagos on Thursday and observed by representatives of the National Lottery Regulatory Commission (NLRC) and Consumer Protection Council, (CPC), Mrs. Sabo Alhassan, a savings account customer with account domiciled in Sanni Abacha Barracks, Abuja emerged the Star Prize winner.
Other savings accounts customers that emerged winners in the latest draw include Akabogu Mary Grace Adanma, Yakubu Habiba, Emmanuel Okoriko Gabriel, Mrs. Teresa Ezenwa Onuoha, Ubi Mbeh Nkanu, Stella Ogunbanibi and Oyewumi Ben Ayodele with accounts domiciled in various business offices of the bank spread across the country. They all won the sum of N100, 000.00 (one hundred thousand naira) each while consolation prizes of N50, 000.00 (fifty thousand naira each) was won by 30 other customers.
Last week, Mrs. Hoomsuk Magdalene, a savings account customer with account domiciled in Yelwa, Plateau State won the sum of one million naira in a computerized draw. She became the second millionaire to emerge in the promo after Mr. Okorie Sunday Stephen, a savings account holder with the Bank won a million naira in the inaugural draw of the promo.
Speaking at the event in Lagos, Chidi Okpala, Divisional Head, Group Retail Banking, UBA Plc said the UBA Lion King Savings Reward Promo will see a total of 1,038 customers rewarded during the campaign. According to him, within the next 6 months, 7 UBA customers will win the sum of N5 million each in the Super Grand Draw while 1026 savings account customers of the bank will win cash prizes between N50, 000.00 to N1million in 23 Weekly Draws. To qualify for both the weekly and grand draws, existing customers of the bank are advised to make a one-time minimum fresh deposit of N10, 000.00 in their account while new customers are required to open accounts with a minimum of N25, 000 only.
UBA has been at the forefront of inculcating a savings culture amongst Nigerians. Since the emergence of the consolidated UBA, there have been several savings campaigns with The Lion King Promo being the sixth in the series. Previous promotions include the Double Gain promo, the Lion King Millionaire Promo, the 7 Wise Men Millionaire Promo, The 7 Wise Savers promo and The Grand Slam Savings Promo.
United Bank for Africa Plc remains an industry leader in Retail Banking across Africa with 19 African countries of operation and over 7 million customers' accounts. The bank has consistently grown its internet and mobile banking customer base coupled with undisputed leadership in local, regional and international remittances.