ION FILM FESTIVAL: Hollywood Celebrities Head to Nigeria for the 6th Annual ION International Film F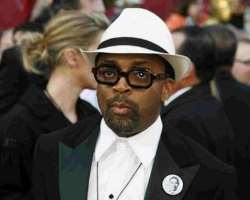 Superstar actress Daryl Hannah, Pras a member of the legendary Grammy Award winning group 'The Fugees' and Gian Carlo Esposito distinguished star of numerous movies including "Twilight" opposite Paul Newman, "Derailed" with Clive Owen, Spike Lee films, TV and Broadway, joined by Bollywood Stars Nandita Das, Nandana Sen, and Film maker Madhu Mantena are all bound for Port Harcourt, Nigeria to attend the 6th Annual ION International Film Festival.
Each year, ION is held in a different international location in an effort to promote global awareness and unity. ION moved from Hollywood in 2007, to Dubai, UAE in 2008, will be hosted in Nigeria in 2009, travelling to Istanbul, Turkey in 2010.
The ION International Film Festival has chosen Port Harcourt, Nigeria for its diversity, rich culture and talented filmmakers. The Film Festival hopes to provide not only Nigerian filmmakers the opportunity to showcase their talents to a wide array of people but also independent filmmakers from across the globe.
ION international Film Festival is a touring festival dedicated to promoting independent film, documentary, animation, original screenplays and music videos. It honours and promotes individuals for their outstanding achievements, while encouraging new artists to emerge.
Caterina Bortolussi of Omcomm Limited, producers of the festival, said in interview with CNN, "People in Port Harcourt have an energy that I have never experienced before and for too long it has been showcased like a place of conflict and extremely insecure. The time has come to shift the focus from the bad news to the good news, to the light of the Niger Delta.... the positive initiatives that are taking place in this corner of the world."
Daryl Hannah said : "The ION Film Festival makes a serious commitment to supporting thoughtful, innovative, provocative, funny, intuitive and out of the box projects and stands out in the world of film festivals."
Giancarlo Esposito will be Chairing an Actor's Studio on the 12th of December in Port Harcourt, bringing with him a wealth of experience and knowledge garnered from an illustrious and glorious career.
Pras who will be showing "Skid Row", a documentary that chronicles a 9-day experiment of his life as a homeless man in downtown Los Angeles as well as performing on stage said, "It's such an honour for me to attend and be a part of the Ion Film Festival in Nigeria this year. Being a part of this is like the prodigal son returning home. Going to Nigeria gives me a chance to reconnect and rejuvenate my soul."
IONIFF Nigeria09 strives to bring awareness to individuals and organisations creating socially relevant movies to positively impact Nigeria and our world.
Global Festival Promoter Prince Baba-Jallah Epega added, "We have been welcomed to the beautiful Rivers State by His Excellency the Rt Hon Governor Rotimi Amaechi and are proud to be able to positively showcase this extraordinary event in the most positive light. It has also been a delight to work with Parminder Vir OBE who brings a wealth of award winning production experience in drama, documentary, current affairs and entertainment, bridging the gap between "Bollywood" and the Nigerian Film Industry "Nollywood".
Over 80 movies from different parts of the world are being showcased at the Festival. They include 32 movies from Nigeria, 12 from other African countries, 1 from India, 27 from the Americas, 6 from Europe and 1 from the Middle East. It is truly an international film festival highlighting the eclectic mix and international flavour together with a great component coming from emerging young talents.
The ION INTERNATIONAL FILM FESTIVAL takes place from the 9th to 12th of December 2009.
Story by http://nollywoodgists.com