Statement Of The Catholic Bishops Of Ibadan Ecclesiastical Province On The Fuel Subsidy Removal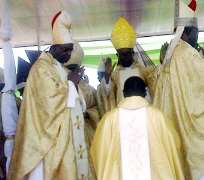 We the Bishops of the Catholic Bishops' Conference of Nigeria, Ibadan Province comprising of Ibadan, Ondo, Oyo, Ilorin, Ekiti, and Osogbo dioceses, having carefully examined the political and economic reasons advanced by the federal government to justify the removal of petroleum subsidy, wish to express our regrets and reservations at the unpopular decision. We deplore the fact that economic considerations were prioritized over moral implications and immediate public interests in the timing of this subsidy removal.
Before removing the subsidy, the Federal Government alluded to huge irregularities and corruption associated with the provision of petroleum products in Nigeria. It took no action to prosecute anyone as a consequence of its discovery. It did not allay palpable fears of harsher economic effects on the average Nigerian nor did it take any action to protect or support the poorest and most vulnerable Nigerians. The harsh consequences of the eventual removal of subsidy, as has been seen, have been instantaneous. Many Nigerians who went to their hometowns and villages to celebrate Christmas and the New Year could not even afford the cost of returning to their places of work.
Government argued that the removal of subsidy on fuel would open the sector to private investors. This might be at best, speculative. We note that government's many policy somersaults and failure to provide security for life and property have created an unfriendly business environment which the mere removal of subsidy cannot reverse. This situation has in fact scared away many foreign and even indigenous investors not only from the petroleum sector but also from other sectors in this country.
The first duty of government is to guarantee the security of life and property. Therefore, to simply allude to fraudulent practices in the petroleum sector without any serious effort to sanction its perpetrators, and to go on instead to remove subsidy as a way of forestalling fraud is to punish the already vulnerable and victimized Nigerian consumer. This action, taken at this most inauspicious period of national grief and emergency is tantamount to what we have referred to in the past as "governance by ambush". It merely penalizes the ordinary Nigerian for the sins of those who practice fraud and for government's abdication of its most fundamental responsibilities. We note with deep regret that this country now has a tradition of making the poor suffer in the selfish interest of a few who have fraudulently enriched themselves in collusion with those in the corridors of power. Must the poor suffer to make the rich smile? It may not be fair to blame the Jonathan government alone for all the woes of Nigeria but this government must take full responsibility for the insensitive timing and execution of this policy on fuel subsidy. Government seems to have already decided on it anyway long before the so-called consultations were begun or does it not matter at all that scores of Nigerians were gruesomely murdered only days earlier in the very vicinity of our Federal Capital?
We cannot ignore the fact that in the build-up to the removal of subsidy, this government simply recycled promises made by previous governments to use proceeds accruing from such measures to improve infrastructure and raise the standard of living of the citizens. But Nigerians know that in the past, such promises have only been fulfilled in the breach. To them, therefore, it would be unwise to believe government this time when it offers no guarantees whatsoever.
We have spoken in the past about the unwieldy cost of governance as other voices of reason have. At federal, state and local levels, there are too many political appointees, too many ministries and too many committees. Government's direct action to slim down in this area would have been one guarantee of its credibility for judicious spending of fuel subsidy savings. As things stand, we consider it immoral to remove petroleum subsidy while we run a government of such dysfunctional dimension and cost. We declare that it is immoral to impose removal of petroleum subsidy on economically weakened Nigerians while political office holders continue to live in embarrassing opulence.
It is therefore our strong opinion that the debate on subsidy was simplistically presented, a fait accompli to veil the fact that the issues involved are far more complex. The powers of state should never have been used to impose removal of petroleum subsidy without putting in place concrete definable measures to cushion the emasculating effects of such an action on the most vulnerable segments of the Nigerian population.

Most Reverend Felix Alaba Job, President, Metropoiltan Archbishop of Ibadan Ecclesiastical Province.