Analysis: Fuel Test Won't Hasten Iran Bomb: Experts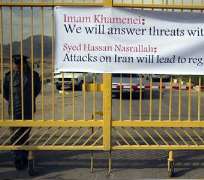 Iran's latest claim of a breakthrough in its nuclear program appears unlikely to bring it any closer to having atomic bombs, but serves rather as another defiant message to the West.
This week's announcement that Iran has successfully made and tested fuel rods for use in nuclear power plants appeared designed to show that sanctions are failing to halt its technical advances and to strengthen its hand in any renewed negotiations with the major powers.
"The development itself doesn't put them any closer to producing weapons," said Peter Crail of the Arms Control Association, a Washington-based research and advocacy group.
It could be a way of telling Tehran's foes that time is running out if they want to revive an atomic fuel swap deal that collapsed two years ago but is still seen by some experts as offering the best chance to start building badly needed trust.
Diplomats believe Iran has in the past overstated its nuclear progress to gain leverage in its standoff with Western capitals, and the testing of domestically made fuel does not mean the country is about to start using it to run reactors.
"It is a step in the direction of no longer needing supply from other countries," said Associate Professor Matthew Bunn of Harvard University's Kennedy School.
"But it will be a good number of months or years before it will be at the point where they no longer need supply from other countries."
Even if the fuel step is confirmed, it is unlikely to add much to already growing Western suspicions that Iran is seeking the capability to manufacture nuclear arms, a charge it denies.
Western powers fear that Iran's uranium enrichment program is part of a covert bid to develop the means to build atomic weapons - suspicions that were given independent weight by a detailed U.N. nuclear watchdog report late last year.
The Islamic Republic says it is refining uranium - material which can have both civilian and military purposes - only for a planned network of nuclear power plants and it could point to the development of fuel rods to back this up.
Iran "still needs to pretend" that it is processing uranium in order to make nuclear fuel and not for weapons, a Western diplomat in Vienna said.
NEGOTIATING TACTIC?
Iran's announcement that it had produced the fuel rods and inserted them in a research reactor core in Tehran coincided with an escalating war of words with the West, in a long-running nuclear row that could spark a wider Middle East conflict.
Tehran has threatened to take action if the U.S. Navy moves an aircraft carrier into the Gulf, its most aggressive warning yet after weeks of saber-rattling as new U.S. and European sanctions take a toll on its economy.
But Iran is also sending out more conciliatory signals: inviting senior U.N. nuclear inspectors to visit and suggesting a resumption of long-stalled talks with the six big powers - the United States, Russia, France, Germany, China and Britain.
That may be a sign of nervousness within the leadership - as the Iranian currency tumbles to a record low against the U.S. dollar - that tightening sanctions might hurt the major oil producer's lifeblood crude exports.
Nevertheless, Sunday's statement of a fuel breakthrough once again underlined Iran's determination to press ahead with an atomic program its clerical rulers regard as a source of power and prestige.
"They announced the fuel rod production and called for talks at the same time, suggesting the fuel rod is intended more as negotiating leverage," said Crail of the Arms Control Association.
The United States says the drive it leads to isolate Iran has slowed Tehran's nuclear program.
But despite tougher sanctions and suspected sabotage, Iran is pressing ahead with the work and its stockpile of low-enriched uranium would be sufficient for at least two atomic bombs if refined much further.
Western experts give different estimates of how quickly Iran could assemble a nuclear weapon if it decides to do so - ranging from as little as six months to a year or more.
In 2010, Iran alarmed the West by starting to enrich uranium to a fissile purity of 20 percent, up from 3.5 percent usually required for power plants, bringing it significantly closer to the 90 percent level required for weapons.
Iran said it was forced to take this step to make fuel for the Tehran research reactor after failing to agree terms for a deal to obtain it from the West. But many analysts doubted it would be able to convert its uranium into special reactor fuel.
Harvard's Bunn described Iran's reported nuclear advance this week as "an early test" of whether it could make fuel able to withstand the radiation, temperature and pressure conditions that exist in a reactor.
"It is a long road yet before you would have fuel that you could actually load in the reactor as the fuel that was going to sustain that reactor's operation," he said.
RUSSIAN FUEL SUPPLIES
In Sunday's reports, Iranian media talked both of fuel rods, which are used in nuclear power plants like Bushehr - Iran's only such facility - and fuel plates, which are needed in the Tehran reactor making medical isotopes.
Rods contain small pellets of fuel, usually low-enriched uranium. The research reactor - which is running out of fuel provided by Argentina in the 1990s - uses thin plates with more refined uranium.
Russia has delivered rods for Bushehr, and Mark Hibbs of the Carnegie Endowment for International Peace said the plant was likely to keep using Russian-made fuel for many years.
In some reactors, the spent fuel can be reprocessed to extract plutonium - offering a second pathway for bombs besides highly enriched uranium - but the type at Bushehr on Iran's Gulf coast is seen as less suitable for this.
"A conventional light-water reactor is not very good at producing plutonium for weapons," said Robin Grimes, head of the centre for nuclear engineering at Imperial College in London.
The Tehran research facility also uses light water as coolant but Iran is, however, constructing a heavy water reactor which it hopes to bring on line by the end of 2013, a model which analysts say could be used for plutonium.
Western diplomats said they were waiting to see whether the International Atomic Energy Agency, the Vienna-based U.N. nuclear watchdog which regularly visits Iranian nuclear sites, could shed more light on Iran's fuel rod announcement.
The IAEA, which has declined to comment on Tehran's move, is expected to issue its next report on Iran in late February.
In November, it said Iran had begun to irradiate, or bombard with neutrons, a prototype fuel rod at the Tehran reactor.
It also said Iran had started to install "some equipment" at a site near the town of Isfahan for making fuel for the same reactor and that five fuel plates had been produced at a research and development laboratory for testing purposes.
Iranian media said the fuel rods the country had now tested contained natural uranium, not the 20 percent material.
"Even in an advanced nuclear power program with years of experience and lots of fuel fabrication experience - which Iran doesn't have - fuel testing could take a decade or more," Carnegie's Hibbs said.
REUTERS