Twitter Embarrassed By Fake Wendi Murdoch Account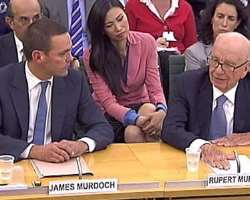 RUPERT MURDOCH'S WIFE WENDI DENG (C) LOOKS ON AS BSKYB CHAIRMAN JAMES MURDOCH AND NEWS CORP CHIEF EXECUTIVE AND CHAIRMAN RUPERT MURDOCH (R) APPEAR BEFORE A PARLIAMENTARY COMMITTEE ON PHONE HACKING AT PORTCULLIS HOUSE IN LONDON JULY 19, 2011. R
Twitter, the popular microblogging site, apologized on Tuesday for incorrectly verifying a false account for Wendi Deng, the wife of News Corp Chief Executive Rupert Murdoch.
The fake account with the handle @Wendi_Deng popped up on Sunday soon after a real Twitter account was started by the media mogul on New Year's eve. News Corp communications staff confirmed that the Murdoch account was genuine. Like Murdoch's own Twitter account, the Wendi account was initially verified by Twitter, featuring the well-known blue tick which shows Twitter has confirmed the account belongs to the named person.
But by early Tuesday New York time, Twitter was forced to remove its famous blue tick from the Wendi account after it said it confirmed the account did not belong to her.
"We can confirm that the @wendi_deng account was mistakenly verified for a short period of time and apologize for the confusion this caused," Twitter said in a statement.
Twitter spokesman Matt Graves declined to comment on the matter beyond the earlier statement to explain how the error was made.
Twitter, which allows anyone to create an account under any name for free, uses the blue tick verification to help its users to differentiate real accounts of well-known personalities from parody pages made by other users.
The @Wendi_Deng profile, seen by Reuters on Monday, said she was joining her husband on an "adventure" on Twitter and began tweeting regularly about Murdoch and with public messages to celebrities like Piers Morgan and British entrepreneur Alan Sugar.
Within 48 hours of opening the page and getting the Twitter stamp of approval, the @Wendi_Deng account - registered under the name Wendi Deng Murdoch - had racked up more than 10,000 followers eager for some insight into Murdoch's personal life as well as his business life. Murdoch himself had amassed nearly 95,000 followers at the time of publication.
The fake account verification by Twitter was compounded by a public relations executive at News Corp's London-based News International mistakenly confirming the @Wendi_Deng account as real to reporters.
UK paper The Guardian had to issue a correction after it published a story with the headline: "Wendi Deng flirts with Ricky Gervais after joining husband on Twitter."
The issue raises questions about Twitter's account verification process. It has nearly 17,000 verified accounts.
The person behind the 'Wendi' page, who has yet to reveal his or her identity in response to inquiries, was critical of Twitter's decision to verify the account without proper checks.
"And you have to wonder even more why Twitter verified this account for a full day. I never received any communication from them about this," the person tweeted.
Twitter has a private verification process for celebrities and other famous people who ask to be verified or complain about parody pages. The site has more than 100 million active accounts and 250 million tweets a day.
Even without the confusion around whether his wife was on Twitter, Murdoch has lit up the blogosphere with his early opinionated tweets being widely covered by both blogs and the mainstream media. His tweets included a near endorsement of Republican presidential hopeful Rick Santorum, praise for President Barack Obama and criticism of the Steve Jobs biography.
Murdoch has had a shaky history with the Internet in general and social media in particular. He famously paid $580 million for MySpace in 2005 and sold it for $35 million last year after losing out to Facebook.
Saudi Prince Al Waleed bin Talal last month took a 3 percent stake in Twitter for $300 million, valuing the company at some $8 billion. The prince holds 7 percent of News Corp B shares, the second largest voting stake after Murdoch.
REUTERS