Terrorism in Nigeria May Lead to Disintegration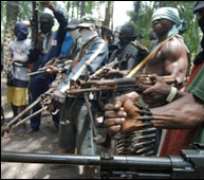 On December 26 2009 I wrote on my blog page that Nigerians are not terrorists. That statement is no longer valid.
Nigeria is now among the league of growing terrorist nations.
On Christmas day in 2009 one over-pampered kid Abdul Mudallab put Nigeria's name on the global map. He is the famous underpants bomber.
One year later at the end of 2010 there has been series of blasts in Nigeria. From Abuja to Maiduguri to Jos and back to Abuja.
Terror now has its grip on the Nigerian nation.
At about 1730 Nigerian time on the last day of the year 2010 there was a deadly bomb in a busy area in Abuja. Thirty people may have lost their lives with several others injured.
As usual the Nigerian government is quick to point accusing fingers. The blame has been shifted to Boko Haram, a group whose mission is not really clear to the rest of us.
"Recent events and development are also tied to earlier prediction by the American Intelligence Council of a possible break up of Nigeria by 2015.
It all started in January, 2005 when a one-day conference of US experts on Africa was convened by the National Intelligence Council to discuss likely trends in Sub-Saharan Africa over the next 15 years. Participants were asked to consider the US National Intelligence Council's report, "Mapping the Global Future", which projected global trends and possible scenarios up to 2020. While covering so many issues, the report on the down side of future expectations noted the possibility of outright collapse of Nigeria.
The report, among others, stated as follows: "While currently Nigeria's leaders are locked in a bad marriage that all dislike but dare not leave, there are possibilities that could disrupt the precarious equilibrium in Abuja. The most important would be a junior officer coup that could destabilise the country to the extent that open warfare (may) breaks out in many places in a sustained manner.
"If Nigeria were to become a failed state, it could drag down a large part of the West African region. Even state failure in small countries, such as Liberia, has the effect of destabilising entire neighbourhoods. If millions were to flee a collapsed Nigeria, the surrounding countries, up to and including Ghana, would be destabilised. Further, a failed Nigeria probably could not be reconstituted for many years-if ever-and not without massive international assistance", the report postulated.
The two paragraphs of the report were singled out and the reaction was instantenous. Former President Olusegun Obasanjo, who was then having a serious confrontation with the then National Assembly, rose to the occasion in a strongly worded letter to the Senate, rebuffing the said prediction as a glib talk." Written by Olawale Rasheed Tuesday, 27 September 2011
Nigeria and predictions of dismemberment
Disclaimer:

"The views/contents expressed in this article are the sole responsibility of

Adeola Aderounmu

and do not necessarily reflect those of The Nigerian Voice. The Nigerian Voice will not be responsible or liable for any inaccurate or incorrect statements contained in this article."