RETRIAL OF ISHMAEL LIGHT-BOURNE VS IGWE GODWIN MADU 419 SCAM CASE, A TEST CASE FOR GOVERNMENT'S FOREIGN DIRECT INVESTMENT DRIVE.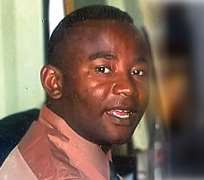 On November 5, 2011, Frank Ezeona, the President of Global Society for Anti-corruption in Nigeria, a Non-Governmental Organization [NGO], granted an interview to Nigerian Tribune, where he gave a comprehensive account of how Igwe Godwin Madu, alias Mustapha posed as the Governor of Central Bank of Nigeria to dupe Ishmael Light-bourne, a former executive director of World Bank.
It will be recalled that sometime in 2004 The Sun Newspaper reported that Godwin Madu, the Igwe of Achi duped Ishmael Light-Bourne of Bahamas the sum of $1.4 million. The revelation of Frank Ezeona has once again opened an interesting chapter in the Ishmael Lightbourne Vs Godwin Madu scam case. The fact that the case has become a recurring decimal shows that no one can sweep it under the carpet any more for whatever reason. This time around, if Economic and Financial Crimes Commission [EFCC] fails in its responsibility of diligent prosecution or possible repatriation of the Igwe Godwin Madu to USA to face appropriate law, the effort of President Good-luck Jonathan's administration at attracting foreign direct investment in Nigeria will suffer a consequential set back, because safety of foreign direct investments will not be guaranteed as they will be at the mercy of fraudsters, protected by EFCC.
There is no doubt that the Transformation Agenda of the current regime is primarily anchored on total shift from oil dependence to a diversified economy where economic growth is production driven. To achieve this will require a system that discourages the prominence of com men, which the abandonment of Godwin Madu's case appears to support. Now that Larmode is piloting the affair of EFCC, coupled with the fact that he is the one that handled the inconclusive Godwin Madu 419 case as head of operation in the period in question, he must ensure diligent disposition of the case.
But for Frank Ezeona's revelation on the correct position of the scam, some "doubting Thomases" would have read witch-hunt to the whole episode. While the investigation was going on, Lightbourne haD this to say: "In addition to the recovery of the $1.4million I would want to be compensated by way of punitive damages that should be imposed upon Mr. Mustapha and his cohorts for the enormous damage they have caused me,". The truth of the matter here is that Lightbourne believes that apart from showing commitment to the recovery of his money, government must prove that it is ready do business with rest of the world by providing enabling environment for business. If this must be achieved, then Godwin Madu, aka, Mustapha must be given justice as deterrence to others in his league.
It may not be out of tune to say that Mr. Ibrahim Larmode's call for support of well meaning countries to enhance the commission's capacity to fight corruption, when the Germany ambassador to Nigeria, Mrs. Dorothee Wenzel paid him a courtesy call in his office on the 22nd of Dec. 2011; will remain unattended to if his commission fails to ensure justice to Godwin Madu. Thankfully, this report on Tuesday, June 21 2005 on the case apart from corroborating Frank Ezeona's position, will surely test the sincerity of Larmode's leadership: Daily Sun reliably gathered that the traditional ruler, who oversees the Achi community in Enugu State, has coughed out $11,000 and 4,700 pounds sterling and he is still being squeezed to vomit more to meet the demand of the American. On his part, Igwe Madu told Daily Sun that he never committed the offence, but some persons had actually approached him to use his account to transfer money, which he did and that he never knew it would result to this. The question here is, who are the persons? It is clear from here that EFCC under Ibrahim Larmode must pay special attention to this test case otherwise; international community may just see Nigeria as unserious about its drive for foreign direct investment.
This time around, Ibrahim Larmode and his team of lawyers in EFCC must make sure that the scandal that led to the surprise abandonment of the case did not rear its head up again. Larmode must know that Igwe Godwin Madu's case and other cases like that will determine his confirmation as the Chairman of EFCC proper. The allegation that he and EFCC team of lawyers received bribe from Madu to oppose sending him to USA for trial must not be allowed to come up again. The fact that Godwin Madu duped Lightbourne posing as Central Bank Governor makes it imperative that Larmode acts to salvage the image of CBN. To show that EFCC under him is not an interested party in the case, Larmode must give Lightbourne preference of venue of retrial, if he prefers USA; it should be granted him to prove to the whole world that Nigeria is ready for foreign direct investment and truly out to fight corruption. If in the end the laws of USA fail to find Madu guilty, it will be clear to Lightbourne that Nigeria has nothing to hide.

When Daily Sun's report of Tuesday, June 21 2005 is juxtaposed with the recent expose by Frank Ezeona on Igwe Godwin Madu, in Tribune Newspaper of 5 November 2011; Madu is seen as a cheap blackmailer. When Frank Ezeona was asked to state the true position on the allegation Igwe Madu made against him and his wife that he, Ezeona works with EFCC and that his wife, Ifeoma Ezeona, Deputy Superintendent of Police [DSP], demanded N10m from him, Godwin Madu, Frank Ezeona has this to say: "When we came in pursuance of a petition raised by our lawyers against Igwe Godwin Madu alias Mustapha, I personally did not know him. It was based on this information we received from one Mr.Ishmael Light-borne, a former executive director of World Bank, that Igwe Godwin Madu and his group defrauded him of S1.4m. Documents were forwarded to my organization. As a true Nigerian and as a major player in an organization that fights corruption, we did what we felt was right by forwarding the whole document to EFCC. After studying the documents, they felt that there was a reasonable ground to arrest Godwin Madu because his name appeared prominently in the scam. I submitted the document to EFCC for their own review because there was an evidence of bank statements in Igwe Godwin Madu's name that showed that he receives most of the monies into his personal account. That my wife Ifeoma Ezeona, demanded N10m from him is laughable. The man just wanted to tarnish my image and that of my wife because I did not succumb to pressures from him and his group. If he is not guilty, why did he start refunding the money to the victim? I have the evidence to show the money was forwarded to the victim".
It could be recalled that when Lightburne was to come to Nigeria, he was threatened through phone calls by people suspected to be working for Godwin Madu alias Mustapha. And when Lightbourne demanded that the trial be shifted to United States of America in view of the obvious threat to his life, EFCC lawyers surprisingly refused the request, prompting Lightbourne to accuse EFCC of bribe taking. But the question here is considering the fact that Lightbourne is very rich can he come to Nigeria because of mere "$1.4 million"?
For avoidance of doubt, here is the report of Daily Sun of Tuesday, June 21 2005, still on the case: --- Lightbourne had indicated this in an e-mail to EFCC Director of Operations, Mr. Ibrahim Lamorde, who he also thanked for assisting in the recovery made so far. "I am somewhat surprised that after the great enthusiasm with which you approached me in December, 2004 and solicited my help in apprehending and prosecuting Mr. Mustapha, it appears that your interest has gone completely cold." With Larmode back as the Chairman of EFCC, the ball is completely in his court as we hope that he will deploy the same zeal that saw him recovering part of the money Igwe Godwin Madu duped Lightbourne, this time around.
Since government is leaving no stone unturned in its effort at ensuring that nothing impedes the drive for foreign direct investment in Nigeria, it is expected that issues such as Igwe Godwin Madu's case, is comprehensively dispensed off. It is equally heartwarming to note that government is not sleeping in its determined effort at putting an end to the unfortunate threat incident in Lightbourne case as Frank Ezeona recently hinted that the circumstances surrounding the discharge of Igwe Godwin Madu, was reviewed with some agents of government. Government must ensure that justices is done in this crucial case as a guarantee for its transformation Agenda, if need be, Igwe Godwin Madu should be sent to USA to face trial for this image damaging allegation of 419. There is no doubt that a former director of World Bank with a lot of contacts and connections in the international circle deserves preference in his quest to get justice.
That Godwin Madu who posed as Governor of Central Bank of Nigeria [CBN] in the name of Mustapha, and duped the former Executive Director of World Bank, to the tune of $1.4 million, is seen parading the streets of Nigeria as a free man, and a traditional ruler, and still in the business of duping people, both Nigerians and foreigners; cast a serious doubt on the determination of government to fight corruption and canvass for foreign direct investment. It is only proper to assure Lightbourne and other prospective investors that Nigeria government is determined to give Lightbourne justice with a view to making sure that potential foreign investors' have confidence in the system.
Emeka Oraetoka , an Information Management Consultant and Researcher, wrote in from Garki-Abuja. P.O. Box 18928. E-mail: [email protected]
Disclaimer:

"The views/contents expressed in this article are the sole responsibility of

thewillnigeria.com

and do not necessarily reflect those of The Nigerian Voice. The Nigerian Voice will not be responsible or liable for any inaccurate or incorrect statements contained in this article."
Articles by thewillnigeria.com