When A People Are Now Advised To "Stay Away From Places Of Worship."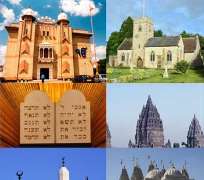 It's a very dangerous thing for a man to renounce his maker; more dangerous is it when he tries to persuade others into doing the same. But when the advice to "stay away from places of worship" becomes the "best security measure" any government can give its citizenry, then, obviously, we are looking at the "angels of Sodom's visitation." Heaven mourns when a people subtly reject their source, how much can the earth tolerate the abominations of men. Men who have rejected the spirit of truth now seek, in all corners, for the truth of their lives, yet it will not be found because they seek falsely and proudly. When the Lord of all said: "My Spirit shall not always strive with man," He made it clear that there will be repercussions for man's rebellion. And today, the very things which brought about that representation which many see as divine regret from the Most Holy and omniscient God are subtly amongst us in their varieties. Today, even those sent by God to help His people are now advising the sheep to stay away from the house of God because of terror. Oh Lord! People whom, as a result of their insufficiencies, were brought before God are now told to stay away from their meeting place if they must be safe. The abomination which causes desolation has entered the house of God in Nigeria and "the house of God" is no longer safe for safety. That is the story of an unrepentant people.
The evil of those who diligently, but without the aid of the true Spirit, seek God is that they find it impossible to see any trace of God's touch in a man he perceives as tribally, racially, or religiously different. That's the doom of the many people misled in Nigeria while they sought for their God. A man who refuses to acknowledge another man's rights to basic freedom is a man who knows nothing of God. Jesus came for all men, yet there were those He specifically told that they "would die in their sins." It was so, not because they had no knowledge, but because they had been properly taught yet they rejected the truth because of unbelief stemming from pride. These Pharisees and the Sadducees would rather cry "let His blood be upon us and upon our children" than accept the truth of Jesus, admit their errors and repent from them. They would rather come to the master at night and grope in the dark. Yet there may be salvation for that man who comes in the dark, but he must own up. In Psalm 137:7-9, the people of God, in anguish, (when the enemies of Abraham's seed invaded Jerusalem), passionately prayed against those who laughed at them and supported their destruction and that of Jerusalem- the city of God; they prayed thus: "Remember, O LORD, what the Edomites did on the day Jerusalem fell. 'Tear it down,' they cried, 'tear it down to its foundations!' O Daughter of Babylon, doomed to destruction, happy is he who repays you for what you have done to us. Happy is the one who takes your babies and smashes them against the rocks!" Did anyone know what happened with that prayer? Well, study history and you will surely find answer. Today, in Nigeria, many cries have gone up to heaven, many injustices have filled Nigeria's cup in God's presence, and so much blood, to this day, still cries vengeance before God against those who vehemently rejected the workings of the blood of Jesus Christ in Nigeria. In the days of great reverence for God, men had to travel to Shiloh and to Jerusalem sacrifice and to worship. But Christ sent the Spirit and told us to take His message to every corner. This day, every street in Nigeria has numbers of places of worship. The grace is immeasurable but it never opposes God's truth and justice. Many who represent God have perverted the truth and have now told the flock that "the house of God is the most dangerous" for them. What generation!
Lack of truth in the mouths of messengers of truth has pushed the sheep into the path and traps of predators. The intent of the Antichrist is to institute his abomination in the house of God and make His temple a desolate place. Today, even those who claim to be championing heaven's purposes are now advising the people of God to run for their lives- away from the places of worship. To the flock, some of whom are afraid and helpless: God is! God is and His word remains eternal. The only thing to worry about is not the illusory dangers of the being in the temple of God, the real dangers lie in the continuation of this abomination called "One Nigeria." Let all who have truly come to worship God and those who live on His promises rise up and stand firm against this Tower of Babel- against this Sodom and Gomorrah called Nigeria. As for justice, God has set this time for it concerning Nigeria and the hands are ticking…ticking, nonstop. For the sake of Lot and those "good men" whose quest for money and the things of life have led deep into the den of the fallen angels, I pray that God may number His people before His anger burns on this breeding ground of the Antichrist called Nigeria. It has become an abomination before all that is good but the people of God will surely not be destroyed with those who have refused to crossover because of their unbelief. As these angels of judgment pass by in God's faithfulness, my prayer is that the seed of Abraham will be sensitive enough to stand in the gap and plead before God for the remnants. Amen.
By Ikechukwu Enyiagu,
[email protected]
Disclaimer:

"The views/contents expressed in this article are the sole responsibility of

Ikechukwu Enyiagu

and do not necessarily reflect those of The Nigerian Voice. The Nigerian Voice will not be responsible or liable for any inaccurate or incorrect statements contained in this article."
Articles by Ikechukwu Enyiagu