FEYIJIMI SODIPO CROWNED MISS NIGERIA 2011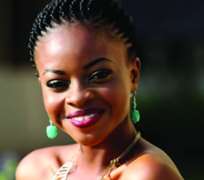 Sodipo
Twenty-one-year-old Feyijimi Sodipo, has been crowned as Miss Nigeria, 2010.
She succeeds Oluwadamilola Agbajor who won the crown last year at an impressive outing in Abuja.
This year's grand finale held at the Expo Hall of Eko Hotel and Suites, Victoria Island, Lagos, came alive with 20 beautiful young girls on stage in three different segments for the judges to choose. The judges comprised elite personalities that stand for high morals and education like Prof Ebun Clarke, wife of renowned Nigerian poet and writer, John P. Clark; Wunmi Ogunbiyi, Catherine Uju Ifejika and Derin Osoba, former first lady of Ogun State.
Sodipo, who represented Ogun State at the pageant, proved she is not only beautiful but very articulate when answering questions. She also wowed the audience and judges with her well crafted native outfit and phonetics.
The new queen, who was crowned by the out-going queen, Oluwadamilola Agbajor, is a student of German language. She speaks four other languages including German.
This year's Miss Nigeria pageant though did not pull a large crowd but Nigerian's in diaspora were able to view happenings in the hall via AIT network service.
Also, present at the event were the Akwa Ibom State Governor, Goodswill Akpabio and his wife, Ekaete. The governor had earlier hosted the 20 contestants at the reality show stage.
First Lady of Lagos, Mrs. Abimbola Fashola also graced the memorable occasion.
High point of the night was when the contestants took the stage by storm, adorning well-crafted, breathtaking evening dresses designed by Vlisco. The outfits were not only beautiful, they also brought an array of print on parade.
Before the crowning of the queen, awards were presented to Miss Delta as Miss Congeniality, Miss Anambra, Miss Photogenic by Studio 24, Miss Akwa Ibom as Miss African Hostess and Miss Benue for the Best Traditional Attire, respectively.
The winner, Feyijimi Sodipo won N3m salary for the year, a luxury car, an exquisite wardrobe and many other gifts from other sponsor. The first runner-up, Miss Benue is to take over whenever the queen is unavailable.
Speaking after the event, Chief Mrs. Nike Oshinowo, coordinator of Miss Nigeria pageant, said with the emergence of Feyiji Sodipo as the new queen, Nigerians can be sure of a good ambassador in all fronts.