Mancini Toasts Ferguson As United Boss Turns 70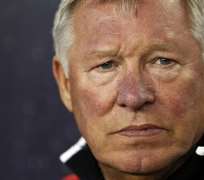 Manchester City manager Roberto Mancini held up a glass of champagne at the end of his news conference on Friday in honour of Manchester United manager Alex Ferguson who celebrates his 70th birthday on Saturday.
Mancini, who has brought refreshing candour to the Premier League since becoming City's manager two years ago, also broke with convention by toasting the reporters and wishing them and their families a happy new year ahead of his team's league match at Sunderland on Sunday.
"Alex is 70, its remarkable," said the 47-year-old Italian who shook his head and smiled when asked if he thought he would still be working as a manager at 70. "No," he said.
With the season reaching the halfway mark this weekend, City and United are neck and neck at the top of the table with 45 points each from 18 matches.
City are top on goal difference, but United can give Ferguson the perfect birthday present by ending the year at the summit if they beat bottom-placed Blackburn Rovers on Saturday.
Mancini said reports regarding City holding talks with Lille about signing Eden Hazard were incorrect and that the club had not lined him up as a replacement for Yaya Toure who is taking part in the African Cup of Nations next month.
Hazard's agent had said the Premier League leaders were interested in the Belgian.
"No, this is not true," Mancini said on Sky Sports News.
"He is a good player but at this moment we have not spoken about him."
Mancini, however, wants Toure to delay his departure to play for Ivory Coast for as long as possible and hopes he will still be at City for the FA Cup third-round tie against Manchester United on January 8.
"We are trying to delay his departure but it is difficult I think," he said. "I think Yaya should leave after United."
In an interview with Italian newspaper Gazzetta dello Sport on Friday, Mancini said he hoped to stay at City for as long as he could.
"As for the job, I want to win the Premier League. It would be a great satisfaction earning the title with Man City after 34 years," he said.
"A new contract for me? Right now they are just words. It depends on the results, but I'm fine at City.
"I confess one thing: I'm glad to hear that City fans at the stadium chanting my name to the tune of 'Volare'."
He also said that City's owner Sheikh Mansour of Abu Dhabi did not just throw money at the club.
"He's very careful with human values and respect for others. We met four or five times, which is not much to express an opinion, but I can say that it is very far from the cliche of the Sheikh as being a rich spendthrift," Mancini said.
"He is not a man who thinks only to spend the money."
REUTERS