Oghara Boils Over Choice of William Ibori As Spokesman… One Killed, Many Injured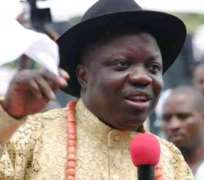 The overwhelming choice of Chief William Ibori, elder brother of embattled former governor of Delta state, Chief James Ibori, as spokesman (Unugbrogodo) of Ogharefe community in Ethiope west local government area of Delta state has resulted into a
 fierce communal war between rival groups in Oghara clan.
The issue had led to the death of one person, simply called Vote, while many others have reportedly been injured in the ensuing crisis, even as security agents have been drafted to the area to curtail the near-war situation.
The position of selection of a spokesman for the community since the demise of the late traditional ruler, which has been in contention is being contested for by one Chief Erubami (a.k.a Ogbo) and Chief William Ibori, but trouble was let loose when the selection process allegedly favoured Chief Ibori, whom the opposition group say is unfit for the position.
A dependable source told Huhuonline.com / that the deceased person, loyal to Chief Erubami was allegedly shot dead by a team of mobile policemen drafted to the scene of the crisis, during an exchange of gun fire. The source added that until his untimely death, Mr. Vote was a member of the community's youth group.
Sources however confirmed that Chief Ibori, who had the backing of the state government was not the favourite of the people even as other sources revealed that Chief Erubami could not be chosen for the position because he was not a true son of Ogharefe since his mother hails from there while his father is from Oghareki, one of the ancestral communities that produces the traditional ruler in Oghara Kingdom.
Huhuonline.com learnt that following the confirmation of Chief William Ibori as the new spokesman (Unugbrogodo) of Ogharefe community on Wednesday, the Erubami led faction became angered, leading to a communal war.
Meanwhile, the Delta state police command has confirmed the incident said that one person has been arrested but denied that its men were responsible for the death of the youth leader.
According to the state Police Public Relations Officer (PPRO), Charles Muka, in a telephone chat 'I have contacted the Divisional Police Officer (DPO) in charge of the area. There is youth leadership tussle and according to the DPO, the youths mobilized, armed themselves with various weapons. We even arrested somebody with an automatic Pump Action gun, but later the corpse of a man was discovered inside a vehicle parked, with injuries in a very different location and there is no trace to who killed him.
He added that 'the corpse of the deceased has been removed to the mortuary for autopsy while the police are monitoring the situation with full investigation to ascertain the circumstances that led to the crisis.
Muka however said that 'The police will soon unravel those behind the crisis since it appears to be a political matter.'