Nigerians Slam Jonathan Over Public Celebration Of Supreme Court Ruling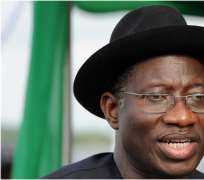 Nigerians have continued to hit hard on President Goodluck Jonathan over his method of governance. Seven months into his current administration, they are yet to see any impact after they claimed to have massively voted for him in the election.
The current anger came after the President excitedly announced on Facebook, the social internet site that he had won in the suit brought before the Supreme Court by the presidential candidate of the Congress of Progressive Change (CPC), Muhammadu Buhari, concerning the April presidential election.
The President had said: 'there necessarily has to be an end to every matter and since the Supreme Court is final in the adjudication process, we must now put the elections and partisanship behind us and focus entirely on nation building. I again say to my brother, Major General Muhammadu Buhari (Rtd) that my arms are opened up to you and all your supporters. As I said in the past and still say again, in a competition amongst brethren, there can be no victor of vanquished.
'On nation building, I must now urge that all hands must be on deck. Every grudge that arose out of the crisis of expectation coming out of the last presidential election must now be soothed not nursed. Under my watch, there will be no finger pointing.
'We were all touched by the recent terrorist attacks that occurred on a day we were meant to be celebrating the Prince of Peace. The reactions have been many. But one thing we must take hold of is that incidents like that should not make us turn on each other rather we must turn to each other.
'We must have a united approach to fighting terrorism instead of a unit reaction. We must work in synch with each other and let those behind the attacks know that if they think they have broken our resolve they are of all men most mistaken.
'Dear friends and Nigerians, there is work to be done, let us do it together. I wish you all a happy new year in advance, but know that it will be a year of work, a year of progress and a year that will be dedicated to consolidating our unity. God bless you and God bless the Federal Republic of Nigeria.'
Hardly had the President posted the message than he received a barrage of comments, most of them posted in anger. While other Nigerians advised him, only a few of those who posted comments actually hailed the judgment.
Many of the 155 Nigerians, who sent their comments, expressed dismay at the method of governance by President Jonathan. Others asked why he would be celebrating his victory when a lot of those who voted for him have died innocently as a result of his inability to secure their lives and property. Some also expressed regret for going out to vote for the Peoples Democratic Party (PDP) as the party had failed to meet their expectations, especially at the federal government level.
A Nigerian, Ukperi Samson, said: well, Mr. President, indeed you have tried, but are you aware that you are the most (sic) worst President Nigeria ever had (sic)? People are dying every day and you are there negotiating with terrorists. For information, the civil servants (sic) have not been paid their December salary, gush! What an insolent (sic)! If I were you, I will pull off my crown and go to the village for farming as usual.'
Jonathan Atiyong reminded the President that Nigerians needed tight security in the areas of Dei-dei, Dakwa and the entire North. He advised the President not to wait to count numbers of the dead but rather stop the people who waste other people's lives. 'The tension is very high in Dakwa now. Please act now and fast. Thank you,' he said.
For Tola Odu, there is nothing to celebrate by the President about the judgement of the Supreme Court. 'So far since the commencement of this administration, Mr. President, you have not justified the confidence that majority of Nigerians imposed' (sic) in you, rather it's been from one harsh policy to another. Your administration so far lacks focus and you need to retrace your steps before you'll incur the wrath of the masses. A word is enough for the wise,' she said.
Oyelami Oyewale said: 'firstly, I congratulate you on your victory at the tribunal. But sir, I would love to tell you the bitter-truth concerning your government. Mr President, you need to act fast, because the confidence that the people bestowed on you is getting waned, simply because you are weak in decision making.
'I could remember during your electioneering campaign, you promised heaven and earth, but unfortunately not knowing that you were only deceiving us then.'
He said he does not believe in the current promise that the fund generated from the removal of fuel subsidy would be channelled into developing the country.
'Things are falling apart in Nigeria, millions of Nigerians are wallowing in absolute poverty, and many have died of diseases caused by starvation. Sir, it seems you just want to compound people's problems. Again, the problem of insecurity, epileptic power supply, bad roads, bribery and corruption and others, please do something urgently on those things. Please, do not start what you cannot finish. Stop embarking on white elephant projects. God bless Nigeria,' he wrote.
Leon Erezi Agbauduta, in reaction to President's Jonathan's message, said: 'Guy, no be this issue now, wetin you get to do about those idiots called Boko Haran or whatever they called themselves? Bros, do something before something do you oooo!'
Victor Chu'emeka Nwokedi-Osili said he was not surprised that the Supreme Court declared the judgment in his favour as he had never seen any sitting President who had been unseated in Nigeria. 'So yours won't be a different case in a country filled with corruption. For you to have pasted this here show how clueless you are in leading this Nation laboured for by Great Zik and Tafawa Balewa and the rest.
'At a time we are mourning the massacre of innocent children, you are celebrating your rigged election, God would surely hear our cry.'
Stephen Aghatise Idada said: 'We voted for you Mr President and we urge you to act like a PRESIDENT. 'The followers cannot move faster than their leader, neither can the wheel move faster than the engine.'
Abraham Don Friday Ozovehe said the President is not even fit for the chairmanship of a local government. 'You are happy you won at the election tribunal meanwhile the people who elected you are dying of bomb blast every day,' he lamented.
Iwu Henry said though he knows it is not easy leading a country like Nigeria with diverse culture and beliefs, the President must be firm in his approach to governance.
'You don't know how it feels because your family members are not involved in the pains families of the bereaved are passing through,' he said.
Nkem Divine and a few others, however, congratulated the President and urged him to meet the expectations of the people. 'My prayer is that God should intervene so that Nigeria will be divided and if Boko Haram wants to finish the North, it is their problem,' he said.