XMAS DAY BOMBING: CAN WE SURVIVE A FULL SCALE RELIGIOUS WAR IN NIGERIA?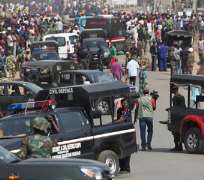 One will say that last Christmas day bombing was one too many in a chain of human carnage that has claimed hundreds of lives and properties worth millions of naira across the country. This dramatic twist in our coexistence is casting value at the continuous survival of Nigeria as a country especially from the religious point of view.
Once in 1999 I and my elder brother were caught up in Rivers state few days after a clash that claimed several Southerner's in the North. As the corpses and wounded started arriving down South tales of what transpired continued to come in different coloration generating outrage alas revenge was rife.
I from Kogi state made me a Northerner. An average Nigerian from the monolithic south concludes we are all Muslims from the North and as well be liquidated to satisfy their own loss. Attempt to board a taxi to flee the imminent reprisal attack proved abortive when we realised the vehicle only had space for one passenger meanwhile I was with my elder brother alongside hundreds waiting to be on the run.
We waited for the next vehicle but no driver was ready to risk it as information continued to trickle in that at a place called Imo river a group of agitated youths were slaughtering people believed to be from the Northern region. Our stomach raw with fear and our hearts palpitated like a man going to have heart attack we waited.
The same vehicle we were about to board earlier returned only with the remains of those who were alive less than two hours ago. They were slaughtered. We wondered if only we were in it same fate would have befallen us. From that day I feel only safe wishfully and not practically anymore.
Killing in most cases beget killing which may continue in a vicious circle of human carnage that may soon engulf the entire country which we all so love. A chain spread of those who died in the Madalla blast will show that they have relatives across the country not to talk of friends and well wishers. Putting the maths together to include those who are pathologically related to victims of such dastardly acts on religious bases one can tell the level of awaiting vendetta.
Comments on social media (facebook, twitter, blogs etc) by Nigerian youths over the recent carnage shows that things are truly beginning to fall apart as no one is concerned about being careful in presentation of views anymore but the main interest is to ventilate with the aim of getting at the opposite religion.
Very soon many Nigerians with self seeking motives will leverage on this systematic killings to feather their own nests then without external factor the federal republic of Nigeria will be rife to suffer from a massive implosion that may shred its sovereignty into piecemeal independent countries.
Nobody knows how all the ugly trend will end but as the pendulum continues to swing Nigerians should brace themselves especially now that the Christian Association of Nigeria (CAN) have sounded the burgle to all Christians on the need to arm themselves in readiness to repel attacks.
Taken it for granted that it has become inevitable that Nigerians especially Christians must advance their own security measures on every given Sunday the control of such amount of force no matter the magnitude is another source of worry. Overzealous youths with spill over anger could decide to execute free minded Muslims whose only offence was to drive or walk past a church. The magnitude of whatever decision we take will have an echoing effect on the survival of Nigeria for good or for bad.
The killings have been dismissed by many notable Nigerians as wanton and random destructions by aggrieved Nigerians who are expressing their displeasure over maladministration of the federal government. Now the Sultan has established that Boko Haram is not a part of the Muslims he is heading in Nigeria, a balance therefore of these two submissions may not help change the position of bereaved families who will dismiss all as mere semantics.
The Sultan will be remember today and always for his civility and nationalistic stance especially on this type of issue that borders on religion. Now the sect have been distanced from the entire Muslim community in Nigeria but they are not making things easier as they claim they are acting in reprisal for killings perpetrated in Jos during the last Eid-ell Fitr festivity.
Now the atmosphere is charged with loath even among the youths who are the puns in every theatre of violence. All that is needed is an enemy of Nigeria (within or outside the country) to sponsor weapons and state-of –the art bombs with manuals and lecture notes on counter 'terrorism'. When such lectures are put into practice one wonders what will be left of great Nigeria.
So many talks weave around the massive killing techniques Nigerians have so very well adopted since the first daring blast on Nigeria's federal capital on Independence Day celebration in 2010. Some say those behind it are notable Nigerians others maintain that some politicians are behind it to make the country ungovernable at the central and or selected state levels.
Political or not, bad leadership or not what is important is how to put an end to the killings. According to Niccola Machievelli 'the end justifies the means'. For us now the means is to have a people oriented leadership class devoid of those after prebends to saturate our political stratosphere with development for the good of all.
Even at the level of having good governance in place self seeking Nigerian leaders will still make the country ungovernable but what they fail to realise is the fact that when the tide changes what they want they won't get and even they will be at risk as their tamed dragon will break its leash and a new dragon will be out to savour their own blood.
For the Governor of Niger state Dr Muazu Babangida Aliyu the sponsors of the carnages should be made example of. The Chief Servant who is known for his fearlessness when it comes to national issues has submitted that the best way around the bombing saga is to nail sponsors.
For the case of Niger state the attacks seem to be taking a different twist as pundits opine that some principalities are battle ready in an attempt to wrestle the governor to political oblivion. The chief servant who is among the leading Northern elites in today Nigeria may be seen as a threat especially in the build up of the 2011 election.
As earlier observed Nigeria stands no chance of survival as a nation if the trend continues. As we are all aware many nations of the world with interests order than good may be waiting in queue to sponsor any divide of their choice. If this happens (if at all it's not already happening) and there is balance of sustained attacks from the two religious divides then the beginning of an ignoble end sets in for Nigeria.
Ayegba Israel Ebije is the Senior Special Assistance (SSA) on Media, Niger state government House.
Disclaimer:

"The views/contents expressed in this article are the sole responsibility of

thewillnigeria.com

and do not necessarily reflect those of The Nigerian Voice. The Nigerian Voice will not be responsible or liable for any inaccurate or incorrect statements contained in this article."
Articles by thewillnigeria.com