Christmas Bombing: Speaker Tambuwal Calls For Truce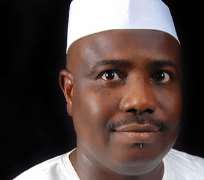 ABUJA, December 28, (THEWILL) - Speaker of the House of Representatives, Hon Aminu Waziri Tambuwal, has urged Nigerians to eschew violence and work towards building a bridge of understanding among the various ethnic and religious groups in the country.
In a message of condolence and support to the victims of the Christmas Day blasts issued by his special adviser on media and public affairs, Imam Imam, the Speaker said the cases of insecurity witnessed in various parts of the country would soon be a thing of the past.
He said the House of Representatives, will work closely with other arms of government to ensure that the country is more secured in the future Christmas: "We must build blocks of unity," Tambuwal tasks Nigerians
Recall that Tambuwal had in a Christmas message last weekend enjoined Nigerians to continue to reflect on the positive tenets that unite the nation, strengthen the polity and enhance its stability and prosperity.
He also called for sustained prayers for peace, unity and stability in the country even as he admonished all to be their brother's keepers and shun all vices and negative acts that can jeopardize the efforts of government in providing democracy dividends to the citizens.
"This period calls for sober reflection and continued prayers for our dear nation. We must replicate on the teachings and lessons of Christmas and continue to exhibit good character as well as extend hands of fellowship and build blocks of unity and understanding to all irrespective of our perceived differences," the Speaker had advised.
However, a day after the statement was issued, the Boko Haram struck at the Saint Theresa Catholic Church in Madalla killing over 30 people and destroying cars and other valuables worth hundreds of millions of naira.