HOW PDP LOST 4 GOVERNORS TO PLACATE ACN - OSUNBOR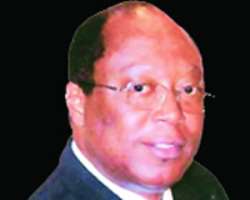 • Osunbor
As preparation for the July 14 governorship election in Edo State gathers momentum, political gladiators in the state are spoiling for war. Amongst those preparing to do battle with the state governor, Adams Oshiomhole is his predecessor, Professor Osarheimen Osunbor.
The former governor, who is warming up for the PDP governorship primaries told NDUBUISI ORJI in this interview that most of the projects the incumbent is showcasing are actually his projects.
Excerpts:
Why I want to return as governor
Well, you know I was governor from May 29, 2007 to November11, 2008. During that period we did so many things, and we improved the situation in the state tremendously. We have put so many things in place during the short period we were there. Some were completed, and many others were at various levels of execution or implementation. But there have been serious reversals in the trajectory of development that we have initiated, cutting across several spheres in Edo State.
In the past two years or so, I have been inundated with a lot of clamour from citizens of Edo state and even people who are from Edo State that recognise the good deed that we accomplished during the period that we were there, Many of these people pleading with me to come back because the kind are of governance that they are experiencing now is not one that people are happy about. As they have said, they have realised that there is a lot of deceit. A lot of dishonesty, unprecedented level of fraud, which is camouflaged by propaganda and false media representation of the reality on ground. So I have been persuaded by these pleas to come into the race.
Edo state is my own state, and I have a stake in this state. And it is in my interest, just as it is in the interest of others who are experiencing this bad governance that we join hands together to restore good governance. These are the reasons we decided to throw our hat into the ring, and seek the PDP ticket in the first place, and then confront the candidates that other parties may throw up during the 2012 governorship election.
Less of the state to ACN
Well I am not sure it is most of my party men. I don't know where you got your information. But you know salami and what he did. By now you should be able to know the politics that went on in the judiciary, which led to the removal of four PDP governors. They were gunning for the fifth until providence saved the governor of Sokoto State from the kind of treatment, which we experienced in Edo State. So, if anybody is blaming it on me as an individual, perhaps the person is not well informed. So if anybody is holding me responsible, I will say the people are sufficiently informed to really know what happened. The politics that played out. The high level conspiracy they went on. The decision to concede five states to the opposition.'
When I was governor, I read some of these stories in the newspapers. About meetings taking place in London. Dubai. They were discussing how they were going to remove some PDP governors to placate the opposition. When I read them, I didn't think those kind of things were possible. But we now realized that yes these stories we were hearing are indeed true. And the people carried out what they want to carry out. But they didn't succeed in getting the fifth PDP state and handing it over to the opposition. Sokoto was supposed to be the fifth state. But things happened, and God ensured that Sokoto didn't suffer the same that some of us suffered.
The conspirators
Well, lets focus on the task ahead of us. For the future, we leave that to posterity. Because like I said you know, if you as journalist don't know there is no point on me dwelling on what hats has gone bye So, Don't ask me to explain the conspiracy, if you do not know those who were responsible, then let's leave the past behind us and face the battles ahead.' You know how people celebrate Tinubu for the victory of ACN in Edo State. Did Tinubu come to give evidence in the court? What role did Tinubu play that people are congratulating him for the victory of ACN in Edo state, Ekiti state and those other states where PDP governors were removed? What role did Tinubu play?
Any chances in the PDP
Well I have a track record. I have antecedents, and that is what I am campaigning with. I believe that my party men and women will be guided by the antecedents of the various aspirants. And that will help them to pick the rightful candidates in the due course of time.
Me and my party
Well, I don't know what is in the mind of any party man. But I understand you were in Edo state before as a journalist. You know what happened in 1999 when the first PDP government in the state came into being. You know the politics that played out during the election of the speaker of the House of Assembly. How the party was polarised. How the person who was supposed to be the speaker of the House as the leaders have decided was shoved aside and somebody else emerged as speaker. That was polarisation of PDP. So, PDP polarization started as far back as that, to the best of my knowledge. You know how AC in Edo State starting first as ACD made up of people who were in PDP. I am sure you know that. So, the polarization of PDP A didn't start with me. Yes, it is true that some people said this, but again you as journalists you know the truth.
You known that PDP has always had this pocket of quarrel. So if anybody is saying that the crisis in PDP started in 2007, it is not true. You know there were impeachments. How many? Not less than four or five impeachments within the House of Assembly between 1999 to 2007. Those impeachments were as a result of crisis within the party. As at that time, I was a senator. I was in Abuja, not in Edo State. You know that it was members of PDP that broke out to form this other party. I am sure that you know that. Those quarrels that led to these developments happened before I became governor.
So, let's eschew sentiments in this matter. It is unfortunate what happened during the period that we were there. But every party has its own problem. I don't think there is any party that is free of crisis or problems. And the good thing is that PDP has been able to rise over and above the challenges that faced the party. Like I said before, lets forget the past and approach the future with confidence as a united PDP, as a focused PDP that is ready to wrestle the other political parties in order that PDP might win back the governorship of Edo State. That is my preoccupation and concern now.
PDP chances
When ACN took over the governorship of the state, they had only eight members out of 24, but they still got the governorship. So, despite the fact that PDP has five members in the house of Assembly, it still has the ability to take over the governorship of the state. It is not unusual. We have seen it in Nassarawa. In Nassarawa state, CPC has only one member in the House of Assembly but the governor of Nassarawa State is from CPC. There is nothing unusual and impossible in the situation we find ourselves in Edo State.
Oshiomhole government
I leave that to the people of Edo state to assess. And as I said, on the 14th of July 2012, the people of Edo state will make their assessment. But what I can say, I read his achievements. The achievements include Akpakpava dualization, which I did. His achievements include UBE, which I secured the funding from UBEC- Universal Basic Education Commission in Abuja. We secured the funding when I constituted the SUBEB board in 2008. So, he takes credit for a lot of the things, we initiated.
Even the road projects that he has embarked on, but has not been able to complete most of them, were roads, which we had advertised in October 2008, which should long, have been completed now, as we have programmed our road construction efforts, but they are still ongoing. When I read his achievements, these were actually things that I did. But everybody is free to beat his chest, that he has done this, he has done that. But it is for the people of Edo State to make the assessment. It is not for me to assess. It is for the people to assess and decide.
Security situation
Well, the issue of unemployment is very fundamental. There are so many idle hands out there. A lot of restive youths who are not engaged sufficiently in productive employment. Like they say idle hand is the devil's workshop. If you look at many of the people who have been arrested whether for armed robbery, kidnapping, violence or whatever, you find that many of them are jobless, or more or less idle people. Once you create employment opportunities, you would have started on the road to tackling the issue of insecurity.
The law enforcement agencies also have to be attentive. Their capacity to monitor, to carry out surveillance and to prosecute is something we have to look into quickly. The judiciary itself needs to play its own role in complementing other efforts in reducing insecurity. We have a situation in the past where people who were arrested for criminal offences are released, only for them to go back to commit more heinous offences; including these Boko Haram people. There is information that some of them have been arrested and charged to court in Abuja before, but they were released on bail only for them to go back to commit higher or graver levels of violence. The judiciary has a role to play.
The criminal justice system in Nigeria has to be revamped. And there are so many facets to this. I believe the government already knows what to do. And we will continue to appeal to them, that is the federal government to see how quickly they can get these things going.
But security is not something to be left to the federal government alone. I hear the governor in this state saying that security is a federal government responsibility, but that is not true. The governor collects security votes; so the question is, if security is a federal government responsibility, what is he doing with security vote. The truth of the matter is that state government also has very important role to play in ensuring security of lives and property within their state. All these dimensions to the issues has to be recognized and addressed if we want to bring down the rate of crime.
State police
I personally do not subscribe to a state police. Because you can see some governors demonstrating a level of intolerance, which makes me fear that if we put state police under their control, they will use it against the people. It will become an instrument of oppression. So, until we get to that level, I don't think state police is something I will support. Some state governors or governments are creating either paramilitary or other forms of security forces. Even in some cases, from what I gathered making arms available to them under the guise that they are vigilante group. But we have seen in past elections how those vigilante groups were arrested in the course of perpetrating electoral violence or preparing to commit electoral violence.
You can imagine what the situation will be if these people now transform into state police. I believe that it will do us more harm than good. My own interest will be to us equipping the police as I said before, giving them more training, recruiting more policemen, because the number is still inadequate currently. We need to have more policemen on the streets. That for me is a better option than establishing state police.
See what they have done with the state independent electoral commissions. I am sure you know the abuses that have been going on. Where elections are conducted and the party of the governor clears 100 per cent of all the seats, even councilors. Come on, things cannot just work out that way. That is just an example of how institutions that are well intended become instruments to serve other ends different from the good intention, that led to their establishment. Like the state independent electoral commissions, as I said, the police even though the intentions are well made, I fear it will transform into monsters that will become instruments of oppression against the people.