CBN ROLES OUT GUIDELINES FOR CASHLESS LAGOS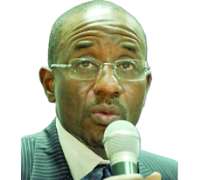 Sanusi
The Central Bank of Nigeria (CBN), yesterday, released guidelines for the implementation of cash policy for cashless Lagos.
In a statement posted on its website, CBN said the move was to provide clarifications on the application of the Cash Policy for the pilot project, which is set to commence on January 2012.
The statement, which was signed by Director, Currency Operations Department, Mahmoud K. Umar, stated that only Cash In Transit (CIT) licensed companies shall be allowed to provide cash pick-up services, as banks will cease cash in transit lodgment services rendered to merchant-customers in Lagos from December 31, 2011.
According to CBN, 'Any bank that continues to offer cash in transit lodgment services to merchants shall be sanctioned accordingly, adding that 3rd party cheques above N150,000 shall not be eligible for encashment over the counter. CBN explained that value for such cheques shall be received through the clearing house.
However, the apex bank stated that the service charges/fees will not apply until March 30, 2012, in order to give people time to migrate to electronic channels and experience the infrastructure that has been put in place.
'Therefore, banks should continue to encourage their customers to migrate to available electronic channels, and where possible demonstrate the costs that will accrue to those that continue to transact high volumes of cash after March 31st in Lagos,' it stated.
CBN wants stakeholders to understand that the cash-policy applies to all accounts, including collection accounts, stressing that banks should therefore work with their corporate customers to arrange for suitable e-collection options. According to CBN cumulative daily limits each for withdrawal, and for deposits for Individuals, the daily free withdrawal limit will be N150,000, while the daily free deposit limit is also N150,000). The limits it stated, apply to the account so far as it involves cash, irrespective of channel over the counter, ATM, 3rd party cheques encashed over the counter, in which cash is withdrawn or deposited. If an individual withdraws N50,000 over the counter, and N150,000 from the ATM on the same day, the total amount withdrawn by the customer is N200,000, and the service charge will apply on N50,000 -the amount above the daily limit).
The limit, according to CBN, also applies to cash brought through CIT companies, as the CIT Company only serves as a means of transportation.'Any bank found to contravene the guidelines or the intentions of this policy shall be sanctioned accordingly,' the apex regulator warned. It would be recalled the Central Bank of Nigeria a few month ago licensed about three companies to handle shares services for banks including cash in transit currency sorting/management services as a strategy to reduce cost of transactions in respective institutions.