DUDUPRINTZ COMES ON STAGE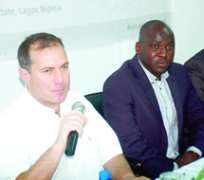 L-R: Ran Landau, HP Regional Business Manager, Middle East & Africa (MEA); Oluwaseun Kupoluyi, CEO, Duduprintz Media Company; and Busayo Kupoluyi, Group Head Strategy & Operations, Duduprintz Media Company, at the launch.
Photo: Sun News Publishing
More Stories on This Section
As businesses in the country and globally continue to offer result beyond the core of products and services, a new organisation, Duduprintz Media Company, formally unveiled recently in Lagos. Duduprintz is a print and cross-media marketing solution provider with focus on offering one-stop print and integrated marketing service; photographic and photo specialty print products; non-photographic print; offset quality prints and integrated marketing solution.
At the corporate launch of the company to the media and other stakeholders, Duduprintz Chief Executive Officer, Oluwaseun Kupoluyi, said the print and cross-media marketing solution provider comes into the market with a wealth of experience, and a commitment to revolutionise the printing business by providing individuals and corporate organisations with tailor-made service that leave them with a new experience in their printing portfolio.
According to the CEO, ' By cross-media we mean the integration of online (internet service) and printing processes, that is, a synergy that allows for the use of online data servicing to facilitate printing process, for example, from social media, URLs or PURL, QR codes, email etc. to print. We are committed to launch patented innovative products and service with focus on the short-run print market and that is where our combination of over 25 years of experience in digital imaging techniques come handy. He noted that though the company currently has operation in Lagos, it will explore opportunities in other locations within the country in the not too distant future.
Explaining the details of products and service offerings, Duduprintz's Group Head, Operations and Technolgy, Oluwabusayo Kupoloyi, said they were committed to offering personalised prints for business stationeries, including letterhead, complimentary cards, general brand materials and photo specialty products, e.g albums, photo book, standard photographic prints, etc. to retail consumers while they provide corporate stationary and other brand materials and campaign materials, i.e. desk pads, calendars, posters, flyers, brochures, etc. for corporate organisations in the business-to-business and business to consumer category.
' Our value offering to retail clients covers Print-On-Demand (POD), Print-What-You-Need (PWUN), which gives significant cost savings for the bargain shopper. And for our corporate clients, we also offer Print-On-Demand (POD), Print-What-You-Need (PWUN) that gives significant reduction in print storage, cost and lead time; and personalised campaigns, generating better client response through Variable Data Printing (VDP) and cross-media Marketing services. With this service, our client enjoys cut through the clutter print solutions; precise focus on the target audience; greater return on investments and better response rate (RR) measuring methods,' Olusayo explained.