U.S. Says China Not Currency Manipulator; Chides Japan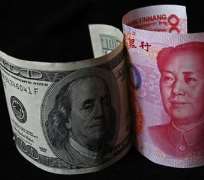 The U.S. Treasury again shied away from labeling China a currency manipulator on Tuesday, but it rapped the country for not moving quickly enough on exchange rate reforms.
The United States also chided Japan for stepping into the currency market to stem the yen's rise, and urged South Korea to use such interventions sparingly.
Some U.S. politicians have argued that China has gained an unfair competitive edge in global markets by keeping the yuan artificially low to boost exports, and pressure has mounted in Congress for President Barack Obama to punish China.
But the administration prefers to tread softly and use diplomacy. The U.S. Treasury, in a semi-annual report, as usual said that statutes covering a designation of currency manipulator "have not been met with respect to China."
It repeated its standard line that appreciation in the yuan has been too slow, calling it "insufficient."
"Treasury will closely monitor the pace of appreciation and press for policy changes that yield greater exchange rate flexibility, a level playing field, and a sustained shift to domestic demand-led growth," it said in the report to Congress on international economic and exchange rate policies.
The value of the yuan, which Beijing manages closely, has risen 4 percent against the dollar this year and 7.7 percent since China dropped a firm peg against the greenback in June 2010. The Peterson Institute for International Economics recently estimated the yuan was undervalued by 24 percent against the dollar, down from 28 percent earlier in the year. It attributed the change to both Beijing's policy of gradual currency appreciation and higher Chinese inflation.
At the heart of the friction between the two countries is a U.S. trade deficit with China that swelled in 2010 to a record $273.1 billion from about $226.9 billion in 2009. The cumulative Jan-Oct deficit with China is on track to top that this year, running at around $245.5 billion.
The U.S. Senate this year for the first time passed a bill that would require the administration to slap penalties on Chinese imports if it fails to adopt market-based exchange rates. While the measure has made no progress in the lower chamber and is unlikely to become law, it shows the mounting U.S. frustration with its vital trade partner.
President Obama at the November APEC meetings, in his toughest words yet, told President Hu Jintao that China must play by global trade rules and act like "a grown-up."
The Treasury's decision not to label China a currency manipulator sent a "clear and positive signal" that would soothe the market and benefit trade, according to a commentary in Xinhua, the Chinese state news agency, on Wednesday.
Beijing has warned the United States not to "politicize" the currency issue, and some economists have pointed out that nations such as Japan and Switzerland have intervened in currency markets without drawing Washington's ire.
TARGETING TOKYO
The report did point the finger at Japan this time, criticizing Tokyo for its solo yen-selling interventions in August and October that followed a joint Group of 7 action in the aftermath of the March 11 earthquake.
"The unilateral Japanese interventions were undertaken when exchange market conditions appeared to be operating in an orderly manner and volatility in the yen-dollar exchange rate was lower than, for example, the euro-dollar market," the report said.
"In contrast to the post-earthquake joint G7 intervention in March, the United States did not support these interventions," the Treasury said, adding that Tokyo should pursue reforms to revive its domestic economy rather than try to influence the exchange rate.
A senior Japanese government official said the report did not change Tokyo's position that its currency policy was in line with G7 agreements.
"This report does not make it more difficult for Japan to intervene," said the official, who spoke on condition of anonymity due to the sensitivity of the topic. "We are committed to doing whatever is necessary."
Japanese exporters have complained that the ultra-strong yen puts them at a competitive disadvantage. The yen was trading at just under 78 to the U.S. dollar on Wednesday morning, about 3 percent weaker than it was on October 31, when Tokyo aggressively intervened to cap the rise.
The report also noted that South Korean authorities "should limit their FX interventions to exceptional circumstances of disorderly market conditions and adopt a greater degree of exchange rate flexibility."
MORE OF THE SAME
Treasury Secretary Timothy Geithner has said the law on the FX report, which requires the administration to determine whether U.S. trade partners are deliberately undervaluing their currencies, is a poor tool to push Beijing on the yuan.
Instead, the United States prefers to argue for change at regular closed-door meetings with Chinese officials. It also uses international economic forums, such as the Group of 20 leading nations and the International Monetary Fund, to ramp up public pressure on Beijing to move more quickly to a more-flexible currency.
China is the biggest foreign holder of U.S. Treasuries, with about $1.1 trillion, a position that gives it leverage in international economic negotiations. Foreign exchange traders had not expected a change of U.S. tactics.
"It's not very surprising. It's sort of sliding it in under the radar. They're (Treasury) really not in a position to make any major moves at this point," said Sean Incremona, an economist at 4Cast in New York.
The Treasury Department has not labeled a country a currency manipulator since July 1994, when it cited China. A designation would require the United States to step up negotiations with Beijing on the yuan's value.
The yuan slipped on Tuesday as strong dollar demand from corporations offset a record high mid-point fixed by the People's Bank of China. The central bank set an all-time high dollar/yuan mid-point in an apparent move to let the yuan rise a little more at the end of 2011 so as to make the yuan's full-year nominal appreciation look bigger, traders said.
Some U.S. manufacturers, which have been hit hardest by competition from China and other emerging economies, would still prefer the U.S. government to take a harder line.
"China's currency is still enormously undervalued," said Scott Paul, executive director of the Alliance for American Manufacturing, an industry lobby for hard-hit textile, steel and labor groups.
"I'm disappointed that President Obama has now formally refused six times to cite China for its currency manipulation, a practice which has contributed to the loss of hundreds of thousands of American manufacturing jobs."
REUTERS