From Macy's To Sears, Tales Of Holiday Highs, Lows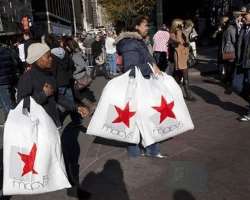 Macy's Inc (M.N) and Wal-Mart Stores Inc (WMT.N) continue to get high marks from Wall Street as the busy season draws to a close, while Sears Holdings Corp (SHLD.O) proved that it was really not a jolly holiday for all stores.
Sears said it would close dozens of Sears and Kmart stores after sales at its existing locations dropped 5.2 percent from the beginning of the quarter through Christmas. Its shares plunged 26 percent on Tuesday.
The announcement comes two weeks after Best Buy Co Inc (BBY.N) said that the bigger discounts it offered to kick-start the holiday season ate into profits.
Success stories, particularly at Macy's and Wal-Mart, show that they and other retailers are benefiting from recent overhauls and the right mix of holiday season discounts.
"To sum up the whole season, I would say extremely focused on bargains, that's where the consumer's mindset is, and the retailers generally, overall, delivered pretty compelling bargains, they gave the consumer a reason to shop," said B. Riley & Co senior analyst Jeff Van Sinderen.
While it is too early to tell, analysts said that the season's promotional prices largely seemed to be in line with what retailers set out to do to entice shoppers.
Macy's surpassed rivals such as J.C. Penney Co Inc (JCP.N) by opening at midnight on Black Friday and from earlier decisions such as letting regional managers pick merchandise that caters to their clientele. After Macy's November sales rose more than expected, it said that if such momentum held up, its profit could also be stronger than forecast.
"I see Macy's as the market-share winner," said independent retail analyst Brian Sozzi, who said shoppers did not see "slash-and-burn discounting" at the department store chain.
"They are the destination place among department stores," he said.
For Walmart, this season was a chance to prove that returning to its historic strategy of low prices on a wide variety of goods would bring shoppers back to the world's largest chain after two tough years.
Realizing that times are tough for its shoppers, many of whom do not have credit cards or bank accounts, Walmart brought back layaway in mid-October. That move hurt competitors.
Layaway sales, where items are put aside for customers until they fully pay for them, fell at Kmart, while Target Corp (TGT.N) saw sales of toys crimped by Wal-Mart's layaway push even before Thanksgiving.
Retailers are expected to ring up $469.1 billion in holiday season sales, or a rise of 3.8 percent from 2010, according to the National Retail Federation.
Meanwhile, U.S. consumer confidence rose to an eight-month high in December, the Conference Board said, suggesting that Americans have a brighter take on the economy heading into 2012.
The S&P retail index .RLX was up modestly on Tuesday, roughly in line with the broader S&P 500 index .SPX.
TEEN ANGST
In general, analysts said that retailers did a good job of having the right level of inventory in place, which meant there was not a need for major panicked discounting.
But it appeared that few retailers foresaw just how mild the weather would be so far in most parts of the country, leading to a glut of warm coats, sweaters and other such items.
That could put pressure on companies such as winter outerwear makers VF Corp (VFC.N), which makes The North Face line, and Columbia Sportswear Co (COLM.O), said Craig Johnson, president of Customer Growth Partners.
"While the economic tone seems a bit better, the lower-end consumer is still most constrained and thus we think investors are still best positioned in those companies targeting higher-end consumers," such as Tiffany & Co (TIF.N), True Religion Apparel Inc (TRLG.O) and Nordstrom Inc (JWN.N), said Caris & Company analyst Dorothy Lakner.
Lakner's favorite small and mid-cap stocks are Zumiez Inc (ZUMZ.O) and American Eagle Outfitters Inc (AEO.N), "where specific strategies set them apart," she said.
Among chains catering to teens, American Eagle appeared to have "better traffic consistently" throughout the season, while Abercrombie & Fitch Co (ANF.N) kept its prices too high, even with discounts, said Sozzi.
American Eagle's success "has come at the expense of the higher priced Abercrombie, which got hammered," said Johnson.
Another teen-focused retailer, Aeropostale Inc (ARO.N), struggled without fresh fashion and lost out to competitors such as Forever 21, H&M (HMb.ST) and Fast Retailing's (9983.T) Uniqlo, he said.
Lakner also called out Children's Place Retail Stores Inc (PLCE.O) as one of retail's "best turnaround stories."
REUTERS