HEAR THE POOR & VOICELESS CAUGHT IN LEKKI SHAKEDOWN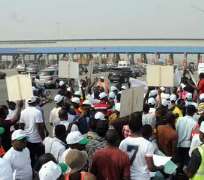 You have heard the voices of the educated demonstrating, the purchasing power of the rich that cannot be bordered but not the powerless voices of those poorer than the minimum wage earners whose take home pay cannot pay the toll. We were living here before Maroko became Lekki and some of us were brought here by Jakande as home owners for the first time in our life. Who do we call or beg for relief since we are lumped and stuck at home without toll tax.
Since the time of Jakande, we have not witnessed government presence in our life. The school was built by Jakande. Like our rich and educated new neighbors, we provide our own electricity and security. But unlike our educated and rich neighbors, we cannot afford their private schools and shopping centers. In order to get to the market, schools, health centers and work, we depend on private transportation that will pay toll and increase our fare.
Many of us miss Maroko where life was simpler but that is history now. Those of us from fishing villages, houseboys and girls, drivers, cooks and cleaners are on the verge of losing our jobs because Oga will not pay minimum wage, not to think of paying for our transportation that will certainly be increased by the toll tax. Since Jakande turned us into home owners, some of us have been able to buy old jalopies our neighbors discard. Who will pay our toll?
Those of us living past Ajah into Ijebu where glad when a road was finally built linking us to our kin and neighbors. The same road is now used to strangle and curtail our activities and freedom of movement from and to our homes. When we were told they were going to build upon it, we thought it was because of the power of the rich. They could have constructed a brand new road that would be faster and more attractive to those that want to save time and pay toll.
There are some of us that have lost the income we used to have, the jobs we used to have, the houses we are left with are occupied by our children that graduated from university without jobs and we are too old and gray to support them. We are not dare-devil and cannot steal, we are not connected nor can we get into politics. We have no access to President, Governor and Chairmen of local councils. Some of us may be house rich but have no new income.
Another group of us are very educated, used to be wealthy but struggle these days with the little we have left. It is not that we did not prepare for our old age, but after structural adjustment we lost our purchasing power since our naira became useless. We sold some our belongings, properties but we are down to our last houses and our last cars. If we had sold those and outlive the returns, we would be on the streets today.
The only cars we have left are old and battered visiting mechanics whenever we card afford it. We are now stuck at home because we cannot tell or cry to everybody that we cannot afford toll to visit children, relatives and friends. We cannot even wait at the toll for too long. As for our pensions, we are not immune to the delayed and erratic long lines of all levels of the governments. Indeed, some of us have died on the lines waiting.
Our children told us there is no place in the world where toll road is built in a residential area. Well, there is always a first in Nigeria. We do not know why they will plant flowers on existing road since the time of Jakande and start shaking us down like the police, omo-onile, areas boys and mafia asking for ransom before we leave and enter our homes.
Why have you forsaken us because we have no voice, no education or no money? There must be somebody somewhere that will hear our cries. Poor people in Nigeria have learned not to depend on governments. Government only takes care of the needs of the rich. They share whatever there is amongst themselves and tell us to close our eyes and pray for better days while they disappear with our money.
We have pleaded with Federal Government to come to our aids with a bridge to link us to the Mainland ready to pay toll. All we get are promises and ceremonies upon commissions that have not produced anything. Anyway, there are more urgent needs than ours. Federal roads, projects and Festac Town are still on hold. Before they attend to us, those will probably take precedence to our little needs in Lekki.
The Lagos State Government shows us all the projects they have accomplished and dare us to show any other state that has done as much. Yes, we know the Governor of Lagos State, his father and grandfather. It was our first stop for relief. However, this Lekki toll is beyond the Governor. Anyone that thinks he has free hand and complete control of his State is a dreamer. He never had before now or until now. Some of you must have heard about his power struggle.
Who then do we go to? If anyone knows where we can reach the almighty power of Lagos State, please point us to the way. We have no connection, no access and no control. We have been told he is the Asiwaju of Lagos. The one and only powerful that has Fashola at his grips. We beg you in the name of whoever you worship to suspend these tolls until alternate road or bridge is built that will attract paying customer.
Tinubu, we beg you in the name of Iragbiji, Omo-Amoda, Omo-Yekini, Omo-Ogunlere to release your choke on Lagos State. Please let us breathe. By the time you make all your money, our children and grandchildren will still be in debt. By the time you live long, dead and gone, our children will be in perpetual debts trying to pay off all the debt you have incurred in your lifetime. Yet no State in the whole of Nigeria makes as much money as Lagos State.
Tinubu, na God we take beg you O. Ebe la nbe osika ko ma balu je.
Written by Farouk Martins Aresa.

Disclaimer:

"The views/contents expressed in this article are the sole responsibility of

thewillnigeria.com

and do not necessarily reflect those of The Nigerian Voice. The Nigerian Voice will not be responsible or liable for any inaccurate or incorrect statements contained in this article."
Articles by thewillnigeria.com