BABA IJESHA OFF TO AMERICA CALL ME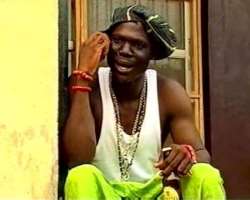 Top Yoruba actor cum comedian,Baba Ijesha(Lanra Omiyinka) has obviously shaken off the terrible experience he had about 6 months ago,when he had a ghastly road accident that almost claimed his life,on his way to Lagos From Abeokuta.
The humorist actor has been seen,of late,attending one social function or the other,especially the ones organized by his professional colleagues.
Baba Ijesha was spotted at the Murtala Mohammed International Airport(MMA),Lagos,on Friday,16th December,2011 on his way to the United States.While some are saying this trip of the tall and lanky actor is for proper medical treatment of the injuries he sustained in the accident,others believe the trip is for him to relax and have fun,a sort of holidaying,after a hectic year of work.