Nigerian: A deeply Worried Youth Asked.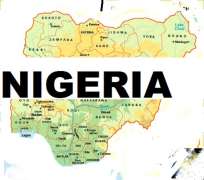 As a result of my commitment to ensure that the Antichrist remains as defeated in the lives of those who look up to God in Nigeria (those called and chosen for victory and freedom) as he eternally is before our God, I have written several messages, directed to all areas of the Nigerian society, on what has befallen the society, what to do about it, and on what to expect when heeded or ignored. Since then, I have been getting loads of emails from supporters and critics alike. But on Saturday, the 17th day of December, 2011, and at 9:56 PM, I received a touching email from a Nigerian of Yoruba tribe who truly knows that the story of Nigeria is as unusual as the leaders who have led the country these decades and have tried everything to cover sin with sin. His letter was touching because, when genuine prayer comes with true repentance, there is always an answer. He was particularly worried as a result of the truths in the message I wrote on the similitude of Nigeria as a country and the Tower of Babel:
http://nigeriamasterweb.com/blog/index.php/2011/12/14/like-the-old-tower-of-babel-nigeria-is-falling
In his sincerity and determination to know, and because his soul has utterly rejected the status quo, he asked me in his mail:
"I read your articles. They are very interesting and educative; but let me ask you the following questions:
Where are we in the aviation industry?
Why do our Airports look like village squares?
Why do the roads and motor parks look bad always?
Why is it that our refineries are not working?
Why did Ajaokuta steel stop?
Why is our railway functioning like an epileptic patient?
Who killed Nigerian Airways, Nigerian National Shipping Lines, NITEL?
Why are we struggling to get 10,000 Megawatts for over 50 years?
Why creating, removing and recreating ministries from every regime?
Why are we still using ancient method of teaching in all our educational system?
Why do all police colleges, barracks and police stations lack adequate equipment and modern edifice?
Why must Universities and Banks collect almost N5, 000 as post UME?
Why must NDLEA ask poor unemployment youths to buy N1, 500 cards each to apply for jobs, and who accounts for all the money?
Where are the proceeds from oil since the tenure of Gowon till date?
What happens to those who stole billions from the nation's treasury?
Why is it that National Hospital in Abuja and every teaching hospital will be referring patients to Eye Foundation in Ikeja for treatment?
Why is it that Nigeria cannot boast of 21st century health care system, technological-driven higher institutions of learning, modern airports and state of the art agricultural system having been independent for over 50 years?
Why is it that our country cannot witness a substantial development despite the fact that every street in Lagos and it environs can boast of three or more churches/mosques?
Finally, why must Nigeria fall "Like The Old Tower Of Babel" when we have spent hours in churches and mosques with 500 terabytes (sic) of prayers request in Almighty God's server?"
Well, to some, these questions may sound redundant, and even funny; while to others, these get them on the defensive, and then, on the offensive. Yet, to millions like this honest enquirer, and to all who love the light and the truth and have come to abhor the shadow of hell which has gradually gained reasonable ground in what is called Nigeria and among Nigerians, these questions call for a rethink, and a vehement stand. Whether you are of the opinion that the person who asked these questions is not serious, or you are among the pillars of this decay, or even among those who are genuinely worried about these questions, one thing remains sure: Something is terribly wrong about Nigeria. And no matter whom you are or how high you have elevated your graces or vices, you can't possibly deny that Nigeria is seated on the hill of a curse. A country where Pharisees and Sadducees represent God before the people will surely mock that man of the cross. It's not about having churches/mosques at every corner, only the truth can truly set free. Included here are some of my answers to him:
I want to start from the second to his last question because therein lies the foundation and the curse; other events fueled it to the point of no return. Jesus, in replying to the Pharisees (those who claim to know the secrets of God), said: "Every plant not planted by my heavenly Father will be uprooted." How does that relate to Nigeria's situation? The answer is right there from its root. History has taught us that the British blocked the early Christian missionaries from taking the gospel into the North of Nigeria when they did all over the South. The reason behind this was because the North already had a faith which was vehemently thrust upon them (by Usman Dan Fodio and his gang of raiders), which faith they have vehemently upheld- even to date. It was also this very reason western education was more pronounced in the Southern part of Nigeria than in the North in the early days of this very false amalgamation. The Northern part of Nigeria rejected Christ, and in falsely handing over the leadership of Nigeria to the North by Her Majesty, Britain also rejected Christ and His place in what they were going to call Nigeria. Then, in agreement with Britain and North's rejection of Christ, and handing over of power to the North as the main conditions for North's acceptance of a "One Nigeria," a country was birthed and given a name by a mistress. Therefore, the foundation of what is today still referred to as Nigeria went out of course into a curse; the building was destroyed from its foundation.
Since then, it has been a fight of deities, a war of whose god is the true God. The North took everything and ruled for decades, yet all everyone sees is decay on decay. The gospel was rejected and education was also rejected. Then the mistake called Nigeria became a habit and a conviction…a tradition and then a curse. Schools were wrecked and the worship of God became a display of falsehood- all over the country.
Then came the invasion of Igboland by this very falsely-founded country, and a genocide sanctioned and carried out by those who claim to know God, yet deny His power. Gowon, and Obasanjo (who allegedly gave his life to Christ inside the prison, but rejected Jesus' blood being enough for every sacrifice. He believed the blood of the Igbo would 'complete what Jesus started,' and then went ahead to kill everything he saw in Igboland- "man, chicken, even things that do not move"), both Christians, gave themselves, for the love of money and man's reward, to descend heavily on states whose majority are Christians, and then killed all they could- children and mothers together. The spirit of Balaam was released against the Igbo and every other Nigerian shouted: "Downed with the Igbo, down with the inyamiri!? The dead of each Igbo child in his hometown became an added joy to each family of the rest of Nigerians- Muslims and Christians alike. And years after the pogrom and genocide, neither the Christian nor the Muslim bodies have come out to renounce what was done against the Igbo. To every other Nigerian, the Igbo are a mutual enemy which must be defeated and destroyed. The government of Nigeria did not stop at the war crimes, it went further, to, economically set the Igbo nation on the path of (so they thought) inevitable extinction. Still, these religious bodies kept quiet, and instead, went ahead to pronounce blessing upon blessing on those already cursed from above. Then even those sent to declare the truth took the way of Balaam and brought great curse upon themselves. They were left to their folly and their gods- money and belly. These people who claim to represent Christ knowingly and unrepentantly gave the devil the chief seat in the land. They were allowed, just like that man of pride who fell from his lofty height, to operate with the mimshack (anointing for expansion) anointing- theirs having been corrupted together with that man of corruption and sin- until that time of great justice. They build churches at every five poles and host program and seminars in the name of God, but heaven and earth resist them vehemently. They preach peach to other countries and the world, yet they ignore the falsehood, wickedness and bloodshed in their own household and country. They would rather join to insist on the rights of Nigeria for the Genocide against Ndigbo than speak the truth of God which is at the tip of every mouth. They resist God's truths and, therefore, every creation resists their shepherding. The society is the fruit of their messages and workmanship; their pocket, bellies, mansions and private jets became the souls they win and their results before the one whose love chose and sent them. Who is that blind that the light of truth can't convict? Look! And you will surely see.

As a result, every other thing was adequately cursed: The government, leadership, parastatal, infrastructures, schools, economy (too much, yet nothing), the society, citizenship, etc. Nigeria became a load on everyone under that name, a load of sin on the shoulder of the guilty and the ignorant. Today, South Africa (a country we went to defend in the days) is now a member of the body of world economies, Ghana (Ghana must go, remember?) is working on selling electricity to Nigeria while Uganda has just built an electric car. And Malaysia, a small country which Nigeria helped from falling, is now a place where billions on Naira go to annually under student scholarships and amnesty programs. But Nigeria's government, which cannot protect the public fund, now wants to be the 'space-giant of Africa;' it cannot maintain a bicycle but wants to fly an airplane. Nevertheless, for the sake of the very elect of God, Nigeria will break up. 2013 is too far a time, yet God's word does not tarry, no matter how long it takes in man's dependence on time. To those under the burden of the chosen Naaman of Assyria, to those in Nigeria whose positions (politicians) force them to bow, because of the king (politics), before the empty god of Assyria called Rimmon, and to those whose emblem of God had been stained with the leprously of serving self, all you have to do is come before the Lord of mercy and love in repentance and truth; release His children which you have bound by your lust for vanity, and restore what you have stolen. He shall then lead you in the right path. The Word says that only true repentance can draw God's attention, bring forgiveness, healing and restoration.

The only way forward for Nigerians is to cry out, with one voice, against "One Nigeria" and demand for immediate breakup. Nothing else will work in Nigeria until and unless Nigeria breaks up. Nigeria stands as the Antichrist, opposing everything from the Word of God in our lives. And God will not have it so. I have always spoken and relayed the messages I have been given; it remains on Nigerians to act on it the way they want. But one thing is sure: Nigeria stands as a curse before my Holy God and her abominations have become unbearable. If Nigerians will not speak up against this Babel of Evil and bring it down safely, God will surely bring it and those who do everything to keep it standing down together. Yet, Nigeria will break because it's already standing as an abomination before the Almighty, and as chains in the hands and feet of those for whom Christ died. May all men be liars but God alone be true. Amen.
By Ikechukwu Enyiagu, [email protected]
Disclaimer:

"The views/contents expressed in this article are the sole responsibility of

Ikechukwu Enyiagu

and do not necessarily reflect those of The Nigerian Voice. The Nigerian Voice will not be responsible or liable for any inaccurate or incorrect statements contained in this article."
Articles by Ikechukwu Enyiagu