Japan, India Shares Gain In Holiday-Thin Asia, U.S. Hopes Help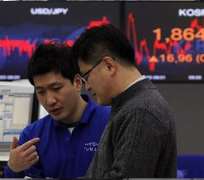 Japanese and Indian stocks outperformed the rest of Asia in thin trade Monday, with sentiment partly lifted by signs of U.S. economic recovery, although trading was subdued with many markets closed for Christmas holidays.
Tokyo's Nikkei stock average .N225 ended up 1 percent, above its 25-day moving average of 8,459, while India's main 30-share BSE index .BSESN rose 1.14 percent, as investors sought holiday-season bargains.
But MSCI's broadest index of Asia Pacific shares outside Japan .MIAPJ0000PUS slipped from a two-week high touched earlier in the day to trade down 0.1 percent.
U.S., European and some Asian markets including Hong Kong and Singapore were closed Monday.
Wall Street stocks rose Friday, with the broad Standard & Poor's 500 Index .SPX breaking through its 200-day moving average after a four-day rally lifted stocks to bring the index up 0.6 percent for the year at last week's close.
The Dow Jones industrial average .DJI rose to its highest in five months Friday.
"The Nikkei is moving with New York. The gains in the U.S. and Europe gave some sense of relief to markets," said Hajime Nakajima, a wholesale trader at Cosmo Securities in Osaka, Japan.
In a sign the markets may be stabilizing for the time being, the CBOE Volatility index VIX .VIX fell to 20.73 on Friday, near a five-month low, reflecting receding investor desire for protection in stock index options against future losses.
The VIX -- a measure of expected volatility in the S&P 500 over the next 30 days -- fell to its lowest since the global financial crisis of October 2008 at 14.3 earlier this year, before picking up to a year high of 48 in August. It has been slipping since hitting a high above 30 earlier this month.
CONCERN ON CHINA EARNINGS
The Shanghai Composite Index .SSEC fell 0.5 percent on concerns over corporate earnings outlook, pushing below the psychologically important 2,200 level in light trading.
The Korea Composite Stock Price Index .KS11 slid 0.6 percent on doubts over the euro zone debt crisis getting resolved.
"Program selling was the main drag on the index today, and despite the optimistic U.S. data, foreign investors aren't ready to re-enter the market in force as long as the (European Central Bank) isn't taking more concrete measures," said Lee Kyung-soo, a market analyst at Shinyoung Securities.
Investors will be looking for clues over the strength of the U.S. economy from data due this week, including the S&P Case-Shiller house price index for October and consumer confidence for December.
U.S. consumer spending growth was tepid and a gauge of business investment fell for a second month in November, data showed Friday, but recent labor and manufacturing figures implied a more-lasting and fundamental strengthening of the recovery.
The U.S. Congress Friday approved a two-month extension of a payroll tax cut that will preserve income for most Americans, supporting their purchases of goods and services and helping sentiment.
The euro was up 0.13 percent to $1.3060, well above its 11-month trough of $1.2945 hit earlier this month.
The latest Commodity Futures Trading Commission data showed investors reduced their short euro positions slightly, potentially giving support to the single currency.
"Given a lack of factors to trade and low liquidity, activity is expected to be lackluster this week, but sluggish results of French and Italian government debt sales scheduled this week could pressure the euro amid an absence of progress in bolstering euro zone safety net," Barclays Capital said in a research note.
The 10-year Italian government debt yield stayed near 7 percent, above which many say is unsustainable for managing public finances and the economy, while 10-year Spanish government bond yield also stood at an elevated 5.40 percent.
Wariness about European banks' health and risks of another global credit crunch made banks reluctant to borrow to each other, pushing the London interbank offered rate for three-month dollars up further Friday to 0.57575 percent, its highest since early July 2009.
REUTERS