Jonathan/David-West: Double Dare On Oil Subsidy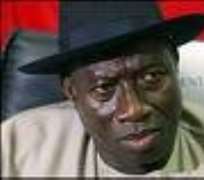 "Subsidy removal: I'm ready for mass revolt" –Jonathan. This was the news in the Nigerian newspapers from 11th Dec. 2011.

President Goodluck Jonathan has made the issue of the oil subsidy removal looks pleasant to the taste, acceptable and welcoming by the way and manner he has been going about it with his media war christened sensitization. The issue is parlous, with millions of naira being spent on jingles and advertorials to make the policy's dissident-Nigerians to swallow the pill. But it is dangerous to imitate a policy, using exaggeration for a comic effect.

Off the parachute, Jonathan is not making the policy a soft landing by the stoical way he wants to foist it on Nigerians, because some few persons in his cabinet have said that the removal of the subsidy would add importance and appeal to the economic growth of the country. As if his life depended on the removal of the subsidy, Jonathan has not only talked about Revolution, but has incited it and is practicalizing it, with his media war, to sell the idea to Nigerians.

This is not a particular way to express oneself. Jonathan is hotfoot on this issue and has blocked his ears not to accede the ideas of people like Professor Tam David-West, who has been a Petroleum Minister of this country. David-West has remained an unapologetic anti-subsidy crusader, being harangued by the Federal Government (FG).

The FG has remained hobgoblin, while Jonathan is not paying heed for an open debate between it and the general public on this matter, as has been proposed by David-West. Rather, Jonathan is shying away, which is therefore a curve deformity of the spine of Nigeria.

In his ever outspokenness, David-West has never refrained his statement that the oil subsidy is fraudulent and never existed. And looking at it, the government is foolhardy, waving the advise aside, making Nigeria to stand on the path of condemnation by the ordinary Nigerian. Whereas oil was supposed to be an ornament that was round our neck, it has rather become an ugly recurring decimal to the spirit of commerce and industry of the country.


Today, there are numerous government sponsored apologies and writers that do not want to leave anything behind the subsidy removal not attacked; they make Jonathan feels that he has the right to oppose any position the Nigerian populace stands for.

Not rapt by David-West's stance, Nigerians have read some ignorantly hollow articles against David-West on this issue. One was "Tam David-West's metamorphosis" by one Tony Egbulefu, The Nation, 06/12/2011. Without going any further in order not to make Egbulefu feel that he was important, Egbulefu has only succeeded by exposing himself to the gallery for people to laugh at, while perhaps happy that he has 'exposed' David-West. The government's ravenous quest to fight anything standing against the policy to standstill has brought embarrassment to the country. Imagine a government that cannot reply to a 'common' debate David-West has proposed, but is rather enthusiastically spending ravishing sum of money on jingles and advertorials.

Because of crass INTEREST, it is obvious that the government is saying that David-West is either lying or doesn't understand economics, so it must go ahead to carry out its purported plan of the removal of the subsidy. But two things are playing around the subject matter. One is the government's insistence to remove the subsidy and its readiness to take the Nigerian citizens to 'war'. What is called 'treason' if not such statement of 'Revolution' coming from a president of a country like Nigeria whom many people around the world took as a role model?

Jonathan's unbridled statement of Revolution has made the demand to fix the refineries or build new ones become comedy, because the taste of the pudding is in eating. If he can lead us to Revolution simply because we are demanding that he stops removing the oil subsidy, what else can he not do? He can even sell Nigeria because he wanted the oil subsidy removed.

Whichever, we have to listen to David-West that the idea to remove the fuel subsidy will hamper Nigeria thus: Strangle the economy, stoke up inflation, hurt businesses and the public. Speaking on "Oil 'Subsidy': Facts, Fiction and fraud" at a business lecture series of Lagos Country Club, David-West had said subsidy removal is insane and could tip the economy towards recession. But people like Jonathan are daring Nigerians to Revolution, which conversely might not be out of place.
Odimegwu Onwumere,Poet/Author, Media/Writing Consultant and Motivator, is the Founder of Poet Against Child Abuse (PACA), Rivers State. Mobile: +2348032552855. Email: [email protected]
Disclaimer:

"The views/contents expressed in this article are the sole responsibility of

Odimegwu Onwumere

and do not necessarily reflect those of The Nigerian Voice. The Nigerian Voice will not be responsible or liable for any inaccurate or incorrect statements contained in this article."
Articles by Odimegwu Onwumere