US Condemns 'Senseless' Nigeria Bombings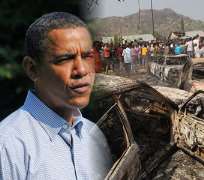 The White House on Sunday condemned the deadly Christmas Day bombings in Nigeria as "senseless violence" and offered condolences over the attacks blamed on an Islamist sect.
"We have been in contact with Nigerian officials about what initially appear to be terrorist acts and pledge to assist them in bringing those responsible to justice," the White House said in a statement.
The statement was issued as President Barack Obama vacationed in his native Hawaii, where he was getting regular daily briefings by his national security staff.
"We condemn this senseless violence and tragic loss of life on Christmas Day," the statement issued by White House spokesman Jay Carney said.
"We offer our sincere condolences to the Nigerian people and especially those who lost family and loved ones."
Bomb attacks on churches during Christmas services and a suicide blast killed at least 40 people in Nigeria in violence claimed by Islamists.
A purported spokesman for Islamist group Boko Haram claimed responsibility for the bombing of the church outside the Nigerian capital and other attacks.
Authorities have been seemingly unable to stop the attacks despite heavy-handed military crackdowns and claims of arrests of Boko Haram members.
Washington has registered increased concern about the prevalence of Islamist violence in Africa, even as it has claimed success in diminishing the threat posed by Al-Qaeda and other groups based in South Asia.
AFP.