DIG DAWODU: GRIEVING DAD, WIVES SPEAK ON HIS LAST MOMENTS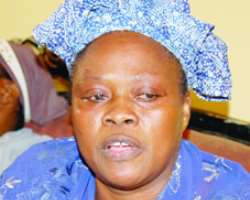 Adetoun
She sits on a sofa at the west end of the expansive living room, sunk in gloom. But for her twin-kids playing a TV game, the ambiance is otherwise melancholic. About a dozen people, mostly women, cluster around her, trying to console her. But their best efforts are not enough to stop tears cascading down the cheeks of Mrs. Rukayat Adetoun Dawodu, the 55-year-old first wife of Ganiyu Ali Dawodu, the Deputy Inspector General of Police, DIG, in charge of Force Criminal Investigation Department, FCID, who died suddenly on Wednesday, December 14, 2011. It seems the more people eulogise her late husband, the more disconsolate she gets.
Since December 14, when her husband and best friend of 36 years passed away, Mrs. Dawodu, a matron with the Lagos University Teaching Hospital, LUTH, has lived in a different world. For her, life has transformed drastically, from a bubbling and fun-filled one to one wrapped and spiced with uncertainties. As the first of two wives, she has had to embrace a new and demanding routine in recent days-attending to and addressing scores of sympathisers, who come from far and near, daily, to share in the family's pains.
The country home of the Dawodus at Owode-Ajegunle, Lagos, has, in fact, turned into a Mecca of sort in the last few days with the traffic of well-wishers swelling by the day.
Dawodu, a brilliant and high-flying officer, was among the best the Nigeria Police could boast. Admired widely for his dedication and commitment to duty, those who knew him closely say he was one of the most patriotic officers to have donned police colours in recent times. After working his fingers to the bones to reach the top echelon of his career, not a few would argue that he had, indeed, paid his dues. His credentials, over the years, would win the admiration of his ardent critics. As the DIG in charge of the 'D' Department of the force, he was, until his sudden exit, responsible for providing intelligence and necessary logistics needed to handle sensitive security issues in the country. He was 58 when bade the world farewell.
However, since the mid-December tragedy, there have been conflicting reports about the actual cause of death, even as the police high command has ordered full-scale investigations. Some of the reports have drilled more pains into the hearts of family members. Likening the reports to something like pouring acid to their bleeding wound, the family's cries have now turned into wailings even as they insisted that this was the best way to honour the memory of a dedicated officer, and a responsible husband and father who gave his best to family, nation and humanity. They argued that what the world has been served was miles away from the truth.
With a quaking voice and eyes brimming with tears, Adetoun, painted a detailed picture of events leading to her husband's death. Even if your heart were made of steel, her account would melt it.
'He called me on the Wednesday of that week to inform me he was coming to Lagos,' she begins. 'He said that he had an assignment to attend at Sheraton Hotel (Ikeja) where he was to represent the Inspector General of Police. We asked the driver to go and pick him up at the airport from where they went to Sheraton together. After the event at Sheraton, he called to say that he was coming home, and that everybody should come home early so we could all spend quality time together. I left my office at the Lagos University Teaching Hospital at about 2p.m. that day just to get home early.
We drove in almost the same time, and he had his lunch.
'After lunch, I told him I wanted to inspect the project we were doing around the corner (on their street) and he came along. We were all gisting and chatting with the workers there before I retired into the house. After a while, he came into the house and told the children to join him for a good time after their daily lessons. He gave his driver some money to go buy some diesel but nobody expected that anything terrible was going to happen.
'When the driver came back, he took the car and said he wanted to drive around, alone.
That was around 15 minutes before 6p.m. Five minutes after he left, a family friend around the corner came looking for him and we told him he had just gone out. The man, Alhaji Agbabiaka, said he called him, and that they were supposed to go to Ikorodu together. He left anyway. At about 7.20p.m., I called my husband's phone and asked him when he was coming back home. He said he was going to join us shortly, and that he wanted something light for dinner. That was it. That was the last time I would speak with him or hear his voice alive. We waited for him eagerly but there was no sign of him. I called his phone again late in the night but he was not picking up. It is unusual because when he sees missed calls like that, he must get back to you. But he never did. We were going to the gate severally to see if his car would come but no way. Everybody was waiting but he never came back.
'At about 1.30a.m., his friend called me and asked what was happening in the house. I told him there was no problem. While I was wondering why he would call me at that time, he called again to ask the same question. It was then it occurred to me that probably I should have informed this man what was really going on. I now called him and asked where he was. He told me he was in his house at Abuja. I told him the only problem we had was that our daddy went out of the house since the previous night and we hadn't seen him. He then dropped the phone. I tried to get his line again but no luck.
'At about 5a.m., my sister-in-law called me and informed me she was coming around the house. And that I should wait for her so that we could both drive out together. All of a sudden, my husband's sister, the one next to him who lives in the neighbourhood, came into the compound, shouting and crying. She was the one that broke the news to us that he had died. That was it.'
Indeed, Dawodu's untimely transition is leaving his immediate family and entire household coping with fresh challenges. Apart from being the muscle on which family members rode on tough terrains, the late DIG was a pillar on whose back associates and religious allies rested firmly upon. He meant different things to different people through his lifetime. And for Adetoun, memories of his love and care for family would remain a memorial she would cling to for consolation.
'We met while we were in school,' she continues, fighting tears. 'We went to school together-Jubril Martins College, Iponri (Lagos). I was in form four, he was doing his Higher School Certificate, HSE. Later, he went for his degree programme (in Psychology) at the University of Ibadan, while I went to the School of Nursing. Incidentally, we courted for nine years before getting married on December 11, 1982. The courtship was so long because we had to go to school. In those days, there were usually long periods of courtship unlike these days when people would court for three months and then rush to marry. I have spent the better part of my life with him. I have spent 36 years of my life with him. He was a gentleman to the core. He was very caring, very loving and very humble. There were never dull moments with him.'
But as rosy as things were, there were challenges that tested the resolve of the union, and threatened the family's stability, too, during the formative years of the late officer in the Police force. Honouring transfer after another across different parts of the country, the family learned to cope without his presence, most of the time. Adetoun said although the challenges created tensions within the family, her husband always found a way of making up even in-between tight schedules.
'I actually had a child in 1984 but lost it,' she said with a tinge of regret. 'And from that time, we had to look upon the Lord for the fruit of the womb. Along the line, he took another wife who now gave birth to the first daughter, Omolara. But honestly, my husband was someone who never allowed his work to affect his family obligations. He always cared for the children's education and was always interested in how individuals within the family could do well for themselves. For instance, Omolara was schooling in Lagos before she was sent to Manchester in England, at about eight years old, for further studies. She just came back not long ago because he wanted everybody to be together. Along the line again, another child, a boy, came up and the twins now came after that. He initially wanted all his children to study in England but he later changed his mind after I prevailed on him to allow them have some of our culture in them before going abroad, if he still wanted.
'Because of the nature of the job of my husband, he always had to go on transfer to different places. He was posted to Oshogbo, Yola, Sokoto and even Kano over the years. He later felt that I could not be going all over the place with him and that I needed to settle down in Lagos. That was how we gradually settled in Lagos.
'We will never forget his commitments to his family. Even while in Kano, he would drive all the way to Lagos to see his family because they meant everything to him. He had always been a homely person; he always had thoughts of his home on his mind.'
But Adetoun is not the only one whose spirits have been dampened by the tragic demise of the family's breadwinner. The other members say life would not be the same without the charming smile and warm presence of the father of the house. Adefunmilayo, second wife of the late DIG, told ICON that they are still waiting for their father to return. She said it gets harder by the day to imagine he would not return again. 'When he called from Abuja that he was coming to Lagos to represent the IG,' Adefunmilayo, begins, 'I asked what he would love to eat. I also asked if he was coming home or going back to Abuja from there. He laughed and asked what I meant by that, that how would he not see his family before returning to Abuja?
'He came back from his assignment and concentrated on playing with the children. I told him he should have called while driving home so we could set the table ahead. He ate his food and relaxed with family members. But by the time he went out that evening, nobody thought that was going to be the last time he was going to be seen. We waited for him to come back but he never did. We are still waiting for him,' she told in a tears-provoking voice.
Even at the mortuary, I laughed.
I'll continue laughing…
-Omolara, Dawodu's 17-yr-old first child
Until about a year ago, Omolara, the 17-year-old first child of the late DIG Dawodu, was living in Manchester. The decision to keep her abroad was part of a grand plan by the late DIG to get the best education money can buy for all his children. But somewhere along the line, he felt a strong pull to make all members of his family to live under the same roof. So, he brought back Omolara to Nigeria.
When she spoke to us at in their residence at Owode-Ajegunle, Lagos, on Thursday, the girl was full of regrets as she reviewed the sad event that has brought unprecedented sorrow to her once happy family.
'It still feels like a wild dream,' she said. 'I believe it's still a dream because I am yet to come to terms with the fact that my dad is gone. Maybe in the days to come, I would realise that this is real. But at the moment I don't want to agree that he is dead.'
Continuing in that state of shock and denial, the girl recalled that sad moment when they broke the bad news to the family. She reacted with a wry smile, suggesting that it wasn't possible for her father to die just like that. 'I simply laughed because it sounded strange and funny, if you like,' she recounted. 'Even at the mortuary, I was still laughing. And I'm still laughing because I know this cannot be true.'
However, while she awaits reality to weigh in, she pays tribute to her departed dad. 'He was very caring and morally supportive,' she said. 'He allowed us be our own persons and make our choices. We were all special to him. He gave us everything we wanted but with a price. You had to earn whatever you got from him. I would miss his presence and love.'
The untold story of DIG Dawodu's death
As the only son of his mother's six children, Ganiyu Ali Dawodu, the late Deputy Inspector General of Police, DIG, who died suddenly on Thursday, December 15, 2011, in Ikorodu, near Lagos, was so close to his mother, Mrs. Awanatu Adebisi Dawodu, that they were almost inseparable as long as the woman lived.
Indeed, so close were mother and son that when the formal died on Sunday, May 24, 1981, the young Dawodu, 28 at the time, was so devastated he, too, almost died.
But that is not the story. The news is that the departed DIG passed on at 58, the exact age his mother went the way of all flesh 30 years ago. And there lies the cruel irony of fate. Pa Ali Dawodu, the DIG's 90-year-old father, made the revelation, last Wednesday, during a condolence visit by the Old Boys Association of Nigerian Peoples High School, where the younger Dawodu had his primary education. He brought out a copy of the obituary of the late Mrs. Awanatu Dawodu to support the claim.
Meanwhile, since the sudden death of the DIG, Pa Ali Dawodu's Otun Street residence in Abule-Ijesha, Yaba, Lagos, has become a Mecca of sort as sympathisers troop to the storey building, from sunrise to sunset, to console the grand old man. But the bereaved dad, an Islamic and community leader, seems to have found strength in the holy book. Rather than remain inconsolable, he is actually the one consoling people, telling them that nothing happens to a man without the Allah's approval.
'Everything that happens in the life of a man has been predestined,' he told an old family friend in Yoruba, who came in weeping. 'Since Allah has allowed this to happen to me, who am I to question Him? What can I do? What can I say? God has passed His judgment, you are saying you want to appeal. Who will hear the appeal?'