EGUAVEON DREAMS FOR ANOTHER 'DREAM TEAM' JOB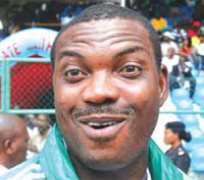 Coach Austin Eguaveon quietly resigned his position as coach of the national under-23 team, but he disclosed that he wouldn't mind staging a comeback if he was offered another chance.
Eguaveon failed to land an Olympic ticket for Nigeria at the CAF qualifying tournament last November in Morocco. A situation he blamed on the absences of his key players. But he disclosed during an interview that if offered the job he would go only for home-based players.
Eguavoen
'If I had another chance at the Dream Team, I would not rely completely on foreign-based players. However if we must use home-based players we need to camp these players for a minimum of six months,' Eguaveon stated.
The former Eagles defender revealed that he has had offers from Nigerian league clubs and would be taking a decision after his holiday.
'I am already getting offers, which I would not want to discuss on the pages of newspapers. I want to go see my family in Belgium and after which you would get to find out where I would be going,' he said.