BPE: Group Wants EFCC To Implement Senate Report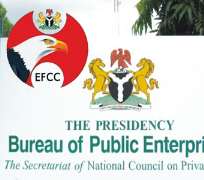 ABUJA, December 23, (THEWILL) - The Socio-Economic Rights and Accountability Project (SERAP) has called on the Economic and Financial Crimes Commission (EFCC) to adopt the report from the Senate on the activities of the Bureau of Public Enterprise (BPE) and ensure the full and effective prosecution of those found to have perpetrated widespread corruption in the agency.
The organisation in a public statement dated 22 December 2011 and signed by its executive director Adetokunbo Mumuni said that, "We welcome the BPE report, and laud the Senate for showing strong political will to conclude the investigation, and adopt and publish the report."
The organisation also said that, "Now it is time for both the EFCC and the Senate to work closely together to ensure that those suspected to be involved in corruption in the BPE are swiftly brought to justice, and all proceeds of corruption are recovered and returned back to the treasury."
"The BPE report clearly shows a serious breach of anticorruption legislation and Nigeria's international obligations including under the UN Convention against Corruption and the African Union Convention on Preventing and Combating Corruption both of which the country has ratified," the organization also said.
According to the organization, "The government of President Goodluck Jonathan must back the full and effective implementation of the report. This will show that the government is willing and able to fight impunity of perpetrators of corruption, which is responsible for legacy of official corruption in the country."
"We also urge both the Senate and the House of Representatives to conclude all investigations into allegations of corruption; publicly release all the reports of concluded investigations and send those reports to the relevant anticorruption bodies for necessary action. We believe that a genuine, full and fair implementation of all anti-corruption laws and standards will ensure that Nigeria's natural resources are utilized to achieve the full realization of the social and economic rights of Nigerians," the statement further stated.
Among the adopted recommendations are the removal of the Director-General of BPE, Ms. Bolanle Onagoruwa, for "her gross incompetence and for the illegal and fraudulent sale of the Federal Government's residual shares in Eleme Petrochemicals Company Limited", as well as the indictment of former heads of the Bureau, Mallam Nasir el-Rufai, Dr. Julius Bala and Mrs. Irene Nkechi Chigbue, for seeking approval directly from the president instead of the National Council on Privatisation (NCP) as stipulated in the Public Enterprises Act, 1999.
The senators advised the Federal Government to implement the Inter-Ministerial Technical Audit Report on Ajaokuta Steel Complex dated July 2011, which recommended the completion and inauguration of the plant by the Federal Government.
Furthermore, it recommended that the BPE should discontinue the use of privatisation proceeds to settle staff terminal benefits, consultancy fees, transaction expenses and execution of capital projects.