ADEPOJU PRAYS FOR KESHI'S SUCCESS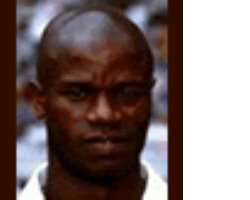 Nigerian former international, Mutiu Adepoju, has disclosed that he has started praying fervently for the Super Eagles head coach, Stephen Okechukwu Keshi, asking God to help him succeed where his immediate predecessor, Samson Siasia, failed.
Adepoju, who made the disclosure in a chat with Daily Sunsports in Yenagoa, the Bayelsa State capital, recently, however, charged the Nigerian football managers to provide an enabling environment to help the Harks of Togo former handler succeed.
'Keshi will succeed if things are done the right way. As a Nigerian, I pray every day he succeeds because I know the level of sentiments and passions every Nigerian attaches to football.
The factors we must put in place for him to succeed include total support to enable him fish out the abundant talents we have in the country.'He must be allowed to get the talents from the home-based players and prosecute developmental programmes from the grassroots. We must start now to get the players to replace the aging ones and if we fail to do that, we will continue to suffer the same fate,' he noted.
Headmaster, as friends and relatives fondly call him, also spoke of the impression that the 1994 Super Eagles squad should be held responsible for the problems of Nigerian football, arguing that it would be wrong to have such perception. 'I will not accept the allegation that my teammates should be held responsible for the problem of Nigerian football. Apart from the fact that we did not actually do the playing on the field, there were other factors which we failed to get right.
'On the issue of our failure to support one another, I would say that it was not collective. It was on individual basis because some of us solidly stood behind Samson Siasia until the end. I really wanted him to succeed even though there were some individuals among us who thought otherwise,' he quipped.
On why Siasia failed, the Shooting Stars Sports Club (3SC) manager, said; 'It would be very difficult to say why he failed because he won above 90 per cent of the matches he played. However, his greatest undoing was the match against the Syli Stars of Guinea. It was a fate which could befall anybody. He failed because the team could not pick the Nations Cup ticket.'