Witnesses: 4 Killed In Northeast Nigeria Bombing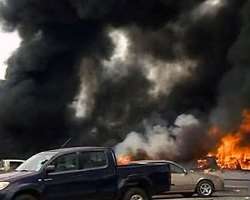 Witnesses say four security agents were killed in northeast Nigeria after a roadside bomb detonated near a military vehicle.

Witnesses say the blast happened Thursday afternoon in Damaturu, the capital of Yobe state. The local police commissioner confirmed the blast occurred and said police and military were fighting with gunmen.

No one immediately claimed responsibility for the attack, though it comes as the region remains under siege by a radical Muslim sect known as Boko Haram. The sect has been blamed for a string of assassinations and bombings in its campaign to implement strict Shariah law in Africa's most populous nation.

Associated Press.